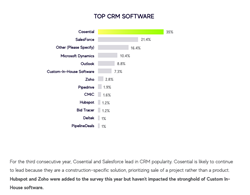 There are still too many firms struggling with a lack of visibility into their business and an inability to make data driven decisions. We'd like to help fix that.
AUSTIN, Texas (PRWEB) January 08, 2020
For the third consecutive year, Cosential finds themselves as the most adopted CRM software according to the respondents of the 2019 Construction Technology Report produced by construction industry tech experts JBKnowledge. According to the survey results, Cosential is used by 35% of the group included in the survey, an increase of nearly 10% in market share gain from 2018.
"The latest JBKnowledge report reflects the fact that Cosential has been 100% focused on the needs of construction industry customers for over 20 years" explained Dan Cornish, Cosential founder and CEO. "We understand the needs of this industry and have continued to put that industry knowledge into our product development efforts." Cosential has become a critical tool powering the nation's largest construction firm Business Development and Marketing operations. The ability to support industry-specific customer relationship management (CRM) use cases and proposal automation with integration to back-end financial systems allows customers to drive growth while improving team productivity. This unique combination of capabilities makes up Cosential's Growth and Relationship Management suite tailored specifically to project-based construction industry firms.
"It comes as no surprise to see Cosential continuing to expand their leadership position as they are one of the only firms offering a construction-specific solution which prioritizes the sale of a project rather than a product" said James Benham, CEO of JBKnowledge. Mr. Benham will be a featured keynote speaker talking about trends in technology adoption in the construction industry at Cosential's user conference, Built2Win 2020, to be held May 4-7 in Austin, TX.
"This is a great way to start this new decade. It validates a lot of the hard work the Cosential team has done on behalf of our customers, including key enhancements to Outlook integration and updates to our mobile apps. We really look forward to continuing our strategy of growth in 2020. There are still too many firms struggling with a lack of visibility into their business and an inability to make data driven decisions. We'd like to help fix that" explained Cosential CEO, Dan Cornish.
About Cosential
Cosential is the leading provider of Growth and Relationship Management (GRM) software for the Architecture, Engineering and Construction (AEC) industries. With Cosential GRM, AEC firms are able to increase revenue while dramatically decreasing the cost of winning new business. Unlike general-purpose CRM systems, Cosential brings unmatched visibility, control, and speed for firm owners, executives, business development, and marketing teams within the AEC industry. For more information visit us at http://www.cosential.com and follow us on LinkedIn.
About JBKnowledge
JBKnowledge is a family of professionals building great technology for construction and insurance since 2001. Our team of consultants, analysts, developers and designers help companies build the technology they need to stay competitive – and help them find their inner geek along the way. To download the 2019 Construction Technology Report, click here or visit http://www.jbknowledge.com.