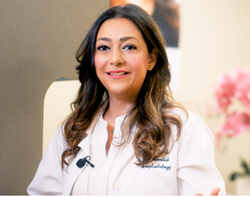 Some patients may have limited amounts of time to get their teeth looking the way they want but skilled dentists will understand how to best accommodate those situations
THOUSAND OAKS, Calif. (PRWEB) July 06, 2020
A June 8 article on Harper's Bazaar Arabia reports on a plethora of tips for brides-to-be, and patients in general, who are seeking teeth whitening treatments. The article notes that those wanting optimal results should not wait until right before their big event as the best results generally come from multiple treatments that require a few weeks to achieve their full impact. The article notes that this is not to say that professional teeth whitening treatment won't offer immediate results – rather, it's that patients will achieve their best results if they work with their dentist over several visits as this can deliver the right shade across all their teeth as well as a healthy look and feel. Board-certified Periodontist and Cosmetic Dentist Sahar Verdi, D.D.S. of Dental Specialists of California largely agrees, saying that professional-grade teeth whitening treatments vary and that while multiple treatments do have a higher chance of delivering the results that patients ultimately want, patients can sometimes achieve dramatic results with a single treatment. She adds that deciding factors include the skill of the dentist as well as how advanced the treatment is.
Dr. Verdi says that professional teeth whitening often comes in multiple forms, including both in-office and take-home kits. Both options work very well for the majority of patients, she adds, while combining treatments may even further enhance final results. On the topic of patients who may be concerned about how long it takes for a procedure to achieve its maximum impact, such as soon-to-be-brides, Dr. Verdi notes that, provided patients have realistic expectations.
Beyond a dentist's abilities and access to advanced treatment, Dr. Verdi notes that a patient's lifestyle and dental care will also play a significant role in how well a whitening treatment may work. Dr. Verdi says that skilled dentists will be able to figure out which approach, or approaches, best suit a patient through careful examination. Even if it turns out that veneers or other prosthetics are necessary, there's almost always an effective teeth whitening solution for patients and it's simply up to the dentist to figure out what that is.
Dr. Verdi adds that, regardless of patients' dental issues or timeframes, there's always a solution she can provide to ensure all patients can finally get the healthy and beautiful smiles they dream of.
Readers seeking additional information on Dr. Sahar Verdi or Dental Specialists of California can visit her website at https://dentalspecialistsofca.com/ or call her office at (805) 370-7171.