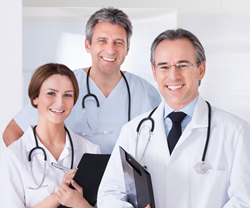 Our series of medical board articles will run weekly through March and are designed to give patients the information they need to find the right doctor to handle their desired cosmetic procedure. - Cosmetic Town Senior Editor
LOS ANGELES (PRWEB) February 21, 2020
Cosmetic surgery continues to grow in popularity and this is reflected in statistics from the American Society of Plastic Surgeons (ASPS). According to the ASPS, there were 17.7-million cosmetic procedures performed in the United States in 2018 which was a 2% increase over the previous year. The American Society of Plastic Surgeons reported that some of the most popular cosmetic surgical procedures include rhinoplasty and breast augmentation while the top minimally invasive cosmetic procedures include Botox, soft tissue fillers and chemical peels. Patients search for doctors that have experience in performing these procedures and this includes doctors that are board-certified by various medical boards in the United States. In order to help patients learn more about the functions of these medical boards, Cosmetic Town is turning the spotlight on these medical boards with a new series of weekly articles.
According to the senior editor of Cosmetic Town, "Cosmetic surgery can sometimes be a bit overwhelming to patients during the research stage. The process of finding a board-certified doctor can be confusing and patients often need a bit of help in finding the right doctor to handle their procedures. Medical boards list the doctors that are board-certified by their organization on their websites and this series of articles is designed to help patients find the information they desire about the medical boards."
The senior editor added, "Our series of articles about medical boards is more than just a way for patients to find board-certified doctors in certain medical specialties. The articles cover the history of the medical boards as well as take a closer look at how doctors can apply to become board-certified and the steps they need to complete to earn the board certification. In addition, we take a look at the various treatments and areas of the body that the medical boards focus on so patients will know if the doctor they are researching has the necessary experience in treating a certain area of the body."
The senior editor noted the Cosmetic Town news team has covered a variety of medical boards in the first month of the articles series. "So far, we've spotlighted the American Board of Otolaryngology – Head and Neck Surgery, the American Board of Orthopedic Surgery (feet and leg surgery), the American Board of Ophthalmology (eye surgery) and the American Board of Dermatology (skin, nails and hair treatment including skin cancers, moles and melanoma). Our series of medical board articles will run weekly through March and are designed to give patients the information they need to find the right doctor to handle their desired cosmetic procedure."
About Cosmetic Town
Cosmetic Town is an online cosmetic medicine publication whose mission is to share knowledge, inspire people and improve lives though cosmetic medicine. The website features doctors who were endorsed and highly recommended by their peers. Its reliable and streamlined database allows users to easily access the cosmetic surgery information they need with just a click of a button.