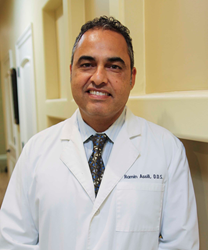 East Los Angeles, CA (PRWEB) September 22, 2015
East Los Angeles cosmetic dentist, Dr. Ramin Assili, is now offering a new promotion on teeth whitening. For just $199, patients can get a one-hour Zoom whitening session to turn their teeth up to nine shades whiter. This promotion cannot be combined with any other offer and it expires October 30, 2015. Zoom whitening bleaches the teeth similar to other professional whiteners, but it features a unique formula and process that maximizes the results received by patients. Zoom is also frequently preferred by patients who choose to undergo teeth whitening on a regular basis.
Zoom whitening uses a formula containing both hydrogen peroxide, the standard whitening ingredient, and carbamide peroxide. Carbamide peroxide combines with the hydrogen peroxide to better address deeply set stains caused by a variety of sources, including coffee, tobacco, tea and wine. Instead of having a single whitening cycle, Zoom whitening is performed in three cycles per visit. Each time, the patented Zoom light is used to activate the gel, while patients relax and read or watch television. To help prevent tooth sensitivity afterwards, there is also an optional application of fluoride.
At Smiles LA, patients can also receive a full selection of cosmetic, restorative and other dental treatments. Veneers are available to cover a number of cosmetic flaws, such as cracks, chips, internal discoloration and very heavy stains, as well as correct tooth size and spacing. A smile makeover consisting of several cosmetic treatments can be used to completely rejuvenate your smile appearance. Invisalign, extractions, periodontal care and preventive dental services are also offered at Smiles LA. For patients who are anxious about treatment or suffer from dental phobias, sedation dentistry may be an option.
About Dr. Ramin Assili, Expert in Teeth Whitening East Los Angeles
East Los Angeles dentist, Dr. Ramin Assili, attended California State University, Northridge, where he obtained his B.S. in biochemistry before earning his DDS from the School of Dentistry at UCLA. A graduate of the prestigious Misch Implant Institute, Dr. Assili is a fellow of the world-renowned International College of Implantologists. After practicing dentistry for more than 20 years, Dr. Assili is highly experienced at treating an extensive range of dental problems, as well as giving patients beautiful smiles through veneers, implants and other cosmetic dental treatments.