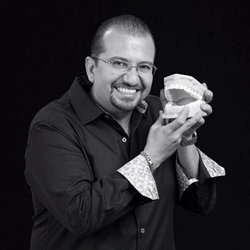 Orange County, CA (PRWEB) February 09, 2016
Dr. Rassouli, cosmetic dentist in Orange County, is now offering a promotion on home whitening packages. Teeth whitening is among the most popular cosmetic procedures in dentistry today, but the cost often leads to patients looking to less safe products for their whitening needs. This can put them at risk of teeth whitening-related damage. For a limited time, Dr. Rassouli is offering this special whitening package for just $79, a significant reduction from the usual $349 cost.
Included in the home teeth whitening package are the following:

An in-office consultation
Two office visits
A dental exam
Two customized whitening trays
Professional whitening gel
To take advantage of this offer, patients simply need to call Dr. Rassouli's office and schedule an appointment. During this visit, Dr. Rassouli will ensure their candidacy for teeth whitening and take dental impressions, which will be used to make the personalized whitening trays. At the next appointment, patients can pick up their fitted whitening trays and whitening gel, and the office will explain the proper technique. Patients can use their new whitening system at home to eliminate stains and brighten their teeth. This package is available for a limited time only and offers patients a significant discount on the usual cost of whitening. Dr. Rassouli offers Zoom whitening as well.
Dr. Rassouli is a top Orange County dentist who offers comprehensive dental care. This includes general dentistry, restorative dentistry, cosmetic dentistry, porcelain veneers, orthodontics, emergency dental care, periodontics, dental surgery, sleep apnea treatments and TMJ disorder treatments. Dental sedation is available for patients who struggle with anxiety or dental phobias and can make long or complex treatments simpler and more comfortable for the patient.
About Dr. Rassouli, Expert in Invisalign Orange County
A staunch believer in continuing education, Dr. Rassouli and his partner and brother Dr. Rassouli founded the South Coast Dental Academy, which offers continuing educational programs for Orange County-area dentists. He graduated from the University of Southern California Dental School and served on the school's Accreditation Committee. After graduation, Dr. Rassouli continued his commitment to the school and dental education by joining the prestigious Century Club, a dental organization that provides opportunities to dentists who wish to broaden their experience.