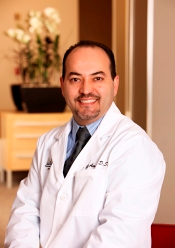 San Francisco, CA (PRWEB) September 04, 2015
San Francisco cosmetic dentist, Dr. Ben Amini, announces that CEREC technology is now available at CitiDent. CEREC is a newer method for creating restorations through innovative imaging equipment and on-site computerized milling machinery. In addition to saving time for patients by eliminating the need for multiple appointments, CEREC produces restorations with total precision for a natural appearance and a more comfortable fit. Crowns, inlays and onlays are increasingly being made this way, enabling the restoration being available in a single dental appointment.
Patients who visit CitiDent for CEREC crowns and other restorations begin the process by having their teeth imaged and scanned from many angles using a patented acquisition device. This information is then sent to a computer, at which San Francisco dentist, Dr. Ben Amini, and his associate dentists can refine the restoration design. The resulting design is automatically turned into a computer program, which is sent to a CAD/CAM milling machine located in the office. The machine uses robotic milling tools, with a precision of 20 microns, to carve the desired restoration out of the chosen material block. During the milling process, patients can relax in the reception room, as it only takes less than an hour to complete most restorations. Finally, Dr. Ben Amini bonds the new restoration onto the tooth, confirming its fit along the way. That's it-an efficient, high tech and esthetic alternative way compared to the way restorations and crowns are made traditionally.
About Dr. Ben Amini, Expert in Dental Implants San Francisco
Dr. Ben Amini completed his dental training at the University of California, San Francisco, UCSF School of Dentistry in 1996. As a member of several professional organizations in his field, Dr. Amini has stayed up to date on the latest dental technology and techniques through extensive participation in continuing education courses. Dr. Amini, San Francisco porcelain veneers expert, is a passionate teacher and an avid patent holder scuba diver, and works with manufacturers to improve technologies that he uses, including Waterlase Laser technology and Invisalign-an invisible way to straighten your teeth for a healthy gum and smile.