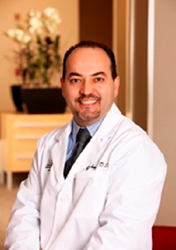 San Francisco, CA (PRWEB) May 19, 2016
San Francisco dentist Dr. Ben Amini is now using hard and soft tissue lasers in a variety of restorative and cosmetic dental procedures at CitiDent. Lasers are progressively being used in dental treatments for their benefits in certain applications. When used in place of scalpels, lasers can reduce or eliminate pain and bleeding resulting in the need for little or no anesthesia. Lasers also offer absolute precision, helping to minimize damage to healthy tissues during treatments. Dr. Amini holds Associate Fellowship Certification in Laser Dentistry from the World Clinical Laser Institute and also provides training in laser dentistry in his faculty position at the University of California, San Francisco, UCSF School of Dentistry.
The use of lasers aids a wide range of dental procedures. For example, lasers are being used in dental cleanings, where lasers help clear the toxicity of plaque and tartar from the teeth, by destroying the bacteria that are in the gum pocket. Lasers are also useful for removing dead tissue, such as in gum disease treatment and root canal therapy. When abnormal tissue is suspected, lasers can be used for taking a tissue biopsy to detect cancer cells. Faster laser teeth whitening and treatment of oral sores, such as canker sores and cold sores, can also be accomplished with dental lasers. Treatment time is also consistently reduced and incisions are automatically cauterized so that bleeding is minimal. The reduced amount of pain with lasers is especially beneficial for sensitive patients. Anti-bacterial properties of lasers reduce risks of infections after surgical procedures.
A complete selection of laser treatments is offered by San Francisco dentist Dr. Ben Amini. At CitiDent, patients can receive comprehensive, cosmetic, laser and specialty dental care. Available cosmetic treatments include teeth whitening, veneers, and smile makeovers. Patients can receive several orthodontic treatments at CitiDent, including Invisalign, metal braces, ceramic braces and more. CitiDent also provides tooth replacements, such as dental implants, along with TMJ and sleep apnea treatments and emergency dental care.
Dr. Amini, the founder of CitiDent, obtained his dental degree in Doctor of Dental Surgery (DDS) at the University of California, San Francisco, UCSF School of dentistry in 1996. He is a member of numerous local, national and international dental organizations and is currently an assistant clinical professor at UCSF, School of Dentistry. Dr. Amini has an Associate Fellowship status at the World Clinical laser Institute.