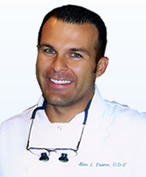 Santa Clara, CA (PRWEB) April 30, 2014
Santa Clara dentist, Dr. Alan Frame, now offers treatments that can transform smiles and improve dental health. Teeth and gums that are healthy can help promote better overall health while gum disease, tooth decay and tooth loss have been associated with some serious health problems. Taking the time to learn more about available treatment options can be a great way for patients to get back on the road to good health.
About Dr. Alan Frame, Expert in Dental Implants Santa Clara
Dr. Alan Frame, dentist in Santa Clara, is proud to be able to serve the community in which he grew up, and he enjoys meeting new patients and greeting old friends. Dr. Frame attended Santa Clara University and began his dental education at the University of the Pacific School of Dentistry. He graduated with the highest honors in 1996 before completing his general practice residency at the University of California, Los Angeles. Today, Dr. Alan Frame is a a member of the Tao Kappa Omega and Omicron Kappa Upsilon, academic dental fraternities, as well as the American Dental Association. He is an avid sports fan and enjoys talking about football, baseball and other athletic events. He offers a variety of dental treatments, including dental implants, teeth whitening and Invisalign.
Dental implants are considered the standard in tooth replacement because they are not only extremely versatile, but they are also similar in design to your own natural tooth. Dr. Frame, Santa Clara dentist, can often place implants in a simple surgical procedure, and once the bone heals around the implant, it will act as a root for the new tooth. Implants are often used with dental crowns to create a new tooth that looks, feels and acts just like the one it replaced, but they can also be used to add strength and stability to dental crowns or dentures.
Invisalign is another treatment option. Santa Clara dentist Dr. Frame can use clear aligners to straighten teeth or to treat spacing or alignment issues. Patients often appreciate not just the subtle appearance of the aligners but also are able to continue their diet and lifestyle habits without the need to worry about metal wires or braces. Teeth whitening can be used with Invisalign or on its own to erase stains from foods, beverages and habits. A single treatment can brighten teeth by up to eight shades.