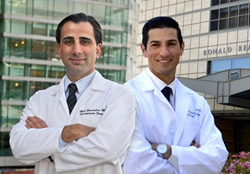 "When we wrote this article, our goal was to provide a publication that would provide plastic surgeons from around the world the latest knowledge about eyelid aging changes..."
Beverly Hills, California. (PRWEB) March 07, 2016
Internationally recognized plastic surgeons, Christopher Zoumalan MD and Jason Roostaeian MD, have just released their latest article on Blepharoplasty surgery in the recent publication of a major international plastic surgery journal, Plastic and Reconstructive Surgery®, the official medical journal of the American Society of Plastic Surgeons (ASPS). Dr. Zoumalan and Dr. Roostaeian, together have authored their article "Simplifying Blepharoplasty," which describes the most up to date techniques in cosmetic eyelid surgery, a surgery which is also referred to as a blepharoplasty.
Dr. Zoumalan states that "when we wrote this article, our goal was to provide a publication that would provide plastic surgeons from around the world the latest knowledge about eyelid aging changes and how to best evaluate and treat patients that seek elective cosmetic eyelid surgery." Dr Roostaeian also stressed that "we wanted to make this a very comprehensive article on blepharoplasty that would help better educate surgeons about the aging process and how to best achieve natural looking results with cosmetic eyelid surgery."
Both authors emphasize that although there are various types of eyelid surgery techniques, their scientific article discusses various techniques while suggesting an algorithm that can help surgeons provide a safe and effective technique based on a patient's individual clinical findings. Dr. Zoumalan, a private practice Oculoplastic Surgeon in Beverly Hills and also a Clinical Professor at the renowned Keck School of Medicine of USC, further states that "our publication is very unique such that we have designed a treatment algorithm to help novice surgeons and guide them toward a safe and effective surgical plan." Dr Roostaeian, a teaching faculty member at the prestigious David Geffen School of Medicine at UCLA, emphasizes that "one of the goals of our algorithm was to provide surgeons in training with a framework for appropriate treatment of the aging eyelid."
---
About Christopher Zoumalan MD FACS
Having performed thousands of cosmetic eyelid surgeries and with nearly 10 years of experience as an Oculoplastic surgeon, Dr. Zoumalan is an expert authority in cosmetic eyelid surgery and provides his work to patients both within the Southern California community (Los Angeles County, San Fernando Valley, Orange County, Ventura County, and San Diego) but also at a national and international level. He is sought after for his highly advanced surgical techniques which allow the patients to heal rapidly, look refreshed all the while still looking like themselves. Dr. Zoumalan has authored over 55 publications in major medical journals, plastic surgery textbooks, and is regarded as an expert within the field of Oculoplastic surgery and cosmetic eyelid surgery.
Dr. Zoumalan has trademarked his surgical approach and refers to it as the Natural Looking BlepharoplastyTM. For more information about his before and after galleries for his Natural Looking BlepharoplastyTM results, please visit his webpage at http://www.DrChristopherZoumalan.com
The office staff comprises of professional patient coordinators and certified medical assistants who work tirelessly to provide patients with the best experience.
Contact:
Email: askus(at)bheyelids.com
Christopher Isaac Zoumalan, MD FACS
9401 Wilshire Blvd, Suite 1105
Beverly Hills, CA 90212
Tel: 310 278 4000
Fax: 310 594 5958
http://www.drchristopherzoumalan.com
---
About Jason Roostaiean, MD
A board certified plastic surgeon, Dr. Roostaeian is uniquely double fellowship trained in both advanced aesthetic surgery and microsurgery in addition to his formal plastic surgery training. He remains at the forefront and cutting edge of plastic surgery as a teaching faculty member of the prestigious UCLA plastic surgery training program. Having authored more than 50 publications in major medical journals and numerous chapters in plastic surgery textbooks, he is considered an expert within the field.
With offices and operating privileges at both UCLA (ranked the third best hospital in the United States by US News) and Beverly Hills, Dr. Roostaeian is able provide an unparalleled level of safety and service to his patients for all their cosmetic needs. Patients from Southern California and around the world have sought his expertise and commitment to providing natural looking results.
His team comprises of a dedicated patient coordinator, a nurse practitioner, and registered nurses who are all dedicated to providing the best medical care possible.
Contact:
Email: contact(at)drjasonplasticsurgery.com
Jason Roostaeian, MD
200 UCLA Medical Plaza, Suite 465
Los Angeles, CA 90095
Tel: 310 825 8827
Fax: 310 206 4190
http://www.drjasonplasticsurgery.com