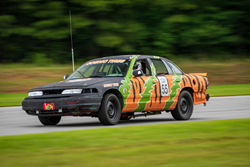 MIAMI (PRWEB) September 17, 2020
Cosmo Tires, a tire manufacturer of sports, passenger, off-road, light truck, truck, industrial and agricultural tires, recently completed their first endurance racing event at the 24 Hours of Lemons at the Carolina Motorsports Park racetrack. The Cosmo Team's Ford Crown Victoria came in 17th out of 96 competitors. The team was running Cosmo MuchoMacho and Cosmo Real Cat 17 tires.
Cosmo Tires regularly sponsors motorsports such as drifting and autocross drivers as well as teams and events. The expansion into endurance racing stems from the desire to to put Cosmo tires to the ultimate challenge, and test different tire compounds on a heavy Ford Crown Victoria to give the tires the maximum workload over a prolonged period of time. Both the MuchoMacho and Real Cat 17 tires performed admirably in daytime, nighttime, dry and wet conditions.
The 24 Hours of Lemons is a fun twist on the endurance racing genre that pits cars bought for a maximum of $500 against each other for an ultimate test of holding it together under less than ideal driving conditions. Safety equipment, brakes and tires are all required and are not included in the price cap, however, everything else is $500 or a penalty.
"I was especially impressed with the MuchoMacho performance in wet conditions," stated Jonathan Brownfield, a Team Cosmo driver and automotive journalist. "Once the rain hit, we started passing everybody."
Cosmo Tires served the Cosmo Crown Victoria for 505 laps and over 1,000 miles through the race. Halfway through the competition, the team changed out the MuchoMacho tires for Cosmo Real Cat 17 luxury/performance tires.
"Testing different tire compounds under high stress while sponsoring motorsports is a win-win for us," stated Joaquin Gonzalez, President of Cosmo Tires. "Cosmo is about performance, innovation and value, but it is also about having fun. Putting our tires on an old Crown Vic with tiger stripes and racing for 24 hours is wacky, out there, and fun – this is what Cosmo is all about!"
The next endurance race for Team Cosmo is tentatively scheduled for December 2020.
About Cosmo Tires
Cosmo Tires is a tire brand of sports, passenger, off-road, light truck, truck, industrial and agricultural tires. Cosmo Tires was founded in 1994, and has been delivering exceptional performance and value ever since. The company started by manufacturing bias (nylon) tires for light truck, truck, industrial, agricultural and off-road applications. Cosmo Tires has since expanded production into passenger car, light truck and truck and bus radials, currently manufacturing a wide range of sizes and patterns for thousands of applications. Cosmo Tires are built with an industry-leading "quality to value" proposition that sets the company apart from all other tire brands. Constantly innovating and pushing the limits of design, Cosmo uses top quality materials and construction methods that squeeze the maximum performance, top safety and best value out of every tire.