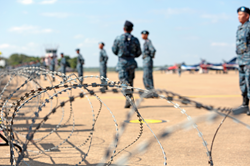 SEOUL, South Korea (PRWEB) August 22, 2018
"Our DMZ tours are very much in demand," says company spokesperson Chuck Shin. "Our tour guides are extremely knowledgeable, and provide interesting stories about the war between North and South Korea and the history of the DMZ. You'll see several different venues inside the DMZ and you'll get a good understanding of the situation there. It really is a once-in-a-lifetime experience!"
Chuck Shin stresses that because the DMZ is a live military action zone, it's important to be guided by the professionals from Cosmojin:
"We ensure that your visit will be memorable and a lot of fun, but most importantly, we also ensure your safety."
The DMZ was created in 1953 as a result of the Korean War, a devastating conflict resulting in the loss of three million lives. A strip of land running across the Korean Peninsula, the DMZ serves as a buffer zone between North and South Korea. Due to continued hostility, large numbers of troops are still stationed along both sides of the line, each side guarding against potential aggression from the other side. There have been various incidents in and around the DMZ over the years, with military and civilian casualties on both sides.
Cosmojin's DMZ tour includes stops at the 3rd Tunnel of Aggression, a secret tunnel built by North Korea in the 1970s and discovered by South Korea in 1978. At the time of its discovery, the United Nations estimated the North could move 30,000 men per hour through the tunnel and invade the South with a surprise attack.
Also included is a visit to the Dora Observatory, where visitors can look across the DMZ and actually see North Korean residents, Dorasan Railway Station which has been restored in the hopes of an eventual Korean reunification, the War History Pavilion, and a great deal more.
Apart from its DMZ tours, Cosmojin offers a variety of other tours and services for visitors to Korea, including tickets for shows and events, shuttle bus tickets, guided tours, walking tours and private tours. The company caters to tourists as well as businesses.
About the Company
Headquartered in Seoul, Korea, and founded in 2001, Cosmojin Tour Inc. has long been established as a premier travel agency in Korea. Offering a variety of tours that allow visitors to explore Korea in different ways, Cosmojin is proud of its powerful team of expert tour guides as well as the professionalism in hospitality, event management, domestic travel, and airline ticketing.
For more information, visit the website at http://eng.cosmojin.com/en