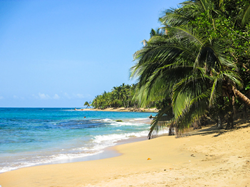 In Costa Rica, you've got a real variety of lifestyles you can choose from, all on a modest budget. From Pacific coast beach towns to cooler highland escapes—this country has a lot to offer American and Canadian retirees.
BALTIMORE (PRWEB) January 26, 2021
Costa Rica tops International Living's Annual Global Retirement Index this year for good reason. Close to the States, it offers great weather, beautiful beaches, and world-class healthcare. It doesn't hurt that many retired couples report they live well on $2,000 a month—that includes all their costs.
Established and welcoming expat communities exist all across the country, which makes fitting in relatively easy. While it's helpful to speak Spanish, expats report that in many spots it's possible to get by largely in English.
"Costa Rica ticks a lot of boxes for the prospective expat who, worried about retirement in the States, is looking for lower-cost, higher-quality options abroad," says Jennifer Stevens, Executive Editor, International Living. "In Costa Rica, you've got a real variety of lifestyles you can choose from, all on a modest budget. From Pacific coast beach towns to cooler highland escapes—this country has a lot to offer American and Canadian retirees.
"Prospective expats seem to be taking notice. At our International Living website, we've seen a 178% increase in traffic to our Costa Rica content over the last month."
Transplants from North America and farther afield live all over Costa Rica today, but International Living has identified the top five havens there for expats and retirees:
1. Central Valley
It's hard to beat the Central Valley for beauty, friendliness, and good-value living. Nestled among forests, mountains, and farms are villages where expats have been living side-by-side with Costa Ricans for many decades.
Like the name would suggest, the Central Valley is central. San José, the country's capital, and its suburbs are within an hour-and-a-half at most from just about anywhere in the Valley. That's where expats go to find the best shopping in the country, including North American-style malls and warehouse shopping clubs.
"A lot of expats choose to live in one of San Jose's suburbs, such as Santa Ana or Escazú," says Kathleen Evans, IL Costa Rica Correspondent. "This way, they can enjoy suburban living close to the city and its amenities, but also enjoy life a little bit outside the city with its spectacular mountain views."
The Central Valley is dotted with communities where expats have settled. Throughout the Valley there are historic towns that attract retirees seeking to upgrade their lifestyle while the trim their budget. Popular towns are Atenas, Grecia, Cartago, and San Ramon.
"The Central Valley is also where our main international airport is," says Evans.
"So, if you do like to travel around and explore new things, you are right in the middle of the action. They're the reasons why about 70% of the population of the country choose to live in the Central Valley."
2. Arenal
Home to both Costa Rica's largest volcano, Volcán Arenal, and its largest freshwater lake, this area is perfect for anybody after a laidback retirement in a rural setting, surrounded by natural beauty. The area, nestled between the provinces of Alajuela and Guanacaste, is suited for lovers of the great outdoors or those looking for a small-town vibe.
"You're not going to find large scale development like you will in some of the other communities around the country," says Evans. "The expats who live there, enjoy that area because they're completely one with nature."
The most popular expat town on the lake is called Nuevo Arenal. This is where people go for the staples of daily life: pharmacy, medical clinic, bank, gas station, grocery stores, restaurants…perfect for everyday shopping and errands. Expats can also be found on the opposite shore, in towns like La Fortuna, which is closer to the volcano.
Thanks to the lake and surrounding mountains, residents enjoy hiking, natural hot springs, mountain biking, rock climbing, whitewater rafting, world-class windsurfing, and paddle boarding.
"The lake area is about an equal distance from both of the main airports," says Kathleen. "So, it's nice to have that choice if you want to fly in one and out the other. And as far as the weather, it's absolutely beautiful. You'll have no need for heat or air conditioning here."
3. The Gold Coast
Many expats looking for a warm climate, a healthy lifestyle, and proximity to the beach that won't cost a fortune have chosen Costa Rica's Gold Coast in the north.
Home to more than 65 of Costa Rica's nearly 300 beaches—some remote and some the centerpiece of buzzing beach communities—Guanacaste draws expats and international tourists from all corners of the world. Not only do the beaches check the boxes of beautiful, safe, and clean, but they each offer something of a different character.
Among the most popular beach communities for expats in the area are Playa del Coco, Playa Hermosa, Conchal, Tamarindo, and Nosara. These communities offer conveniences for daily living, business opportunities and infrastructure, and a natural hub for fun things to do. The coast is also dotted with plenty of up-and-coming towns as well.
"Every beach has its own personality," says Evans. "If you like a touristy town with lots of restaurants and different food choices and things to do, you might want to look at places like Playa del Coco and Tamarindo. But there are also lots of little sweet, quiet communities, and the only way to discover them is to get in your car and drive along the coast."
The cost of living is variable in Guanacaste depending on your lifestyle. Most expats in the region say they can live well on around $2,000 per month. Many find ways to live for less, and likewise, some spend much more.
4. Central Pacific Coast
The Central Pacific Coast stretches from Puntarenas to Manuel Antonio. The most popular expat places here would be Playa Herradura, where there is a large upscale development called Los Sueños, Playa Jaco, Esterillos, and down the coast to Quepos and Manuel Antonio.
"The Central Pacific coast is the most established in the country," says Evans.
"These are the beaches that are closest to the capital in San Jose—within an hour or two—which means easy access to healthcare, shopping, and an international airport."
The Central Coast is a little more topical and more lush than dryer Guanacaste to the north. On this Central Coast, there's a bit more of a rainy season, but the tradeoff is that everything is greener.
Manuel Antonio is the site of the country's most popular national park. At 4,000 acres, it's a relatively small refuge and one of the smallest national parks. But the rainforest is home to capuchin monkeys, three-toed sloths, coatis, and much more. Within the park boundaries, sit some of Costa Rica's most beautiful beaches. There are four protected coves where white sand meets clear blue water, with jungle-clad hills rising dramatically from the shoreline.
"The Central Pacific Coast is also home to the country's largest LGBTQ+ community. So, if you're looking for an alternative lifestyle, it is very gay-friendly there," says Evans.
5. The Southern Zone
About three to four hours from San José and the Central Valley, the Southern Zone offers a totally different landscape, lifestyle, and climate. It's an unspoiled seaside wilderness with a laidback beach lifestyle and a warm, coastal climate.
The Southern Zone stretches all the way to Panama, but most expats are concentrated in and around three main towns—Playa Dominical, Playa Uvita, and Ojochal.
Dominical, a small surf village, is the gateway to the region. Uvita is the commercial hub, with banks, hardware stores, and pharmacies. Ojochal is the jungle village famed for its gourmet restaurants, which are run by an international cast of expat foodies. Expats here relish the mix of natural beauty and off-the-beaten-path life, yet with modern conveniences at hand.
Completion of the coastal highway in 2010 significantly cut drive time to the Southern Zone and opened up this area to expats, but development is small-scale, and the region is still unspoiled.
Evans says, "the real estate there tends to be a little bit less expensive than some of the other larger beach communities to the north because it is a little bit less developed."
The full report on Costa Rica's top five expat havens—including a video from our IL Costa Rica Correspondent and a closer look at the Caribbean side of Costa Rica—can be found here: Best Places to Live in Costa Rica: Five Top Expat Havens.
International Living's complete 2021 Annual Global Retirement Index, including more information on Costa Rica and the other nine countries that made it in to the top 10—as well as the individual rankings in all 10 categories for all 25 countries included—can be found at: The World's Best Places to Retire in 2021.
Members of the media have permission to republish the article linked above once credit is given to Internationalliving.com.
Further information, as well as interviews with expert authors for radio, TV or print, is available on request. Photos are also available.
For information about InternationalLiving.com content republishing, source material or to book an interview with one of our experts, contact Editorial Director for Web Content, Social Media, and PR, Donal Lucey, dlucey@internationalliving.com.
Instagram: https://www.instagram.com/internationalliving/
Twitter: @inliving
Facebook: https://www.facebook.com/International.Living/
About International Living
Since 1979, InternationalLiving.com has been the leading authority for anyone looking for global retirement or relocation opportunities. Through its monthly magazine and related e-letters, extensive website, podcasts, online bookstore, and events held around the world, InternationalLiving.com provides information and services to help its readers live better, travel farther, have more fun, save more money, and find better business opportunities when they expand their world beyond their own shores. InternationalLiving.com has contributors traveling the globe, investigating the best opportunities for travel, retirement, real estate, and investment.