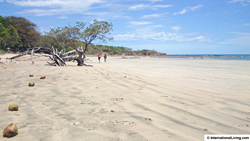 It's just low-key, low-drama
Baltimore, MD (PRWEB) October 18, 2017
Political volatility in the U.S. appears to be motivating expats to look in increasing numbers for overseas retirement havens that exhibit greater stability.
Costa Rica tops the list of destinations offering a quiet, steady, stable political, economic, and social environment in addition to providing a low cost of living, slow pace of life, warm weather, and great natural beauty.
"Costa Rica is a low-drama country—and that appears to be a greater draw today than ever, according to expats living there," says Jennifer Stevens, International Living Executive Editor.
"There's no lack of drama in Costa Rica's landscape, of course—you've got jaw-dropping expanses of coast, jungles rich with everything from spider monkeys and sloths to scarlet macaws and quetzals, gorgeous lakes and volcanic valleys.
"But the people have a gentle way about them, the politics are low-key, the character of the place is warm and welcoming. It feels stable and steady and expats who report they're tired of the relative political volatility at home indicate that they appreciate that steadiness they find in Costa Rica."
Ticos (the moniker Costa Ricans give themselves) have established one of the world's most stable democracies in Costa Rica.
The country dissolved its standing army in 1949 and the reallocated funds are spent on education, healthcare, and pensions instead of the military.
Costa Rica invests more in education and health as a proportion of Gross Domestic Product than the U.K. As a result, Costa Ricans enjoy a high life expectancy and a literacy rate approaching 98%. The country regularly wins accolades as having the happiest people on earth.
But what many expats say they appreciate—in addition to the low costs, welcoming people, and gorgeous landscapes—is how laidback life there is.
"It's just low-key, low-drama," says John Michael Arthur, IL Costa Rica Central Valley Correspondent. "I read the newspapers online filling me in on what's going on in the States these days and I just think, 'thank goodness I'm apart from all that.'
"Being rid of 24 hours 'news' bombarding your senses is very freeing. Costa Rica is relaxed, laidback, and slower-paced. And there's none of the drama that's coming out of the United States right now. This country is one of the most prosperous and politically stable in Latin America."
"At a time when it seems like nothing but tragic, controversial, and volatile news is coming out of my home country I am so grateful to have the opportunity to be in Costa Rica where I feel a bit removed from it all," says Jackie Minchillo, IL Costa Rica Coastal Correspondent, who lives in Tamarindo on the Pacific coast.
"Of course, you can't completely escape the news, thanks to social media, but we're also not completely inundated here. People spend their mornings and evenings outside enjoying nature, rather than glued to the television.
"And the talk of the town here is about Costa Rica's plans to ban single-use plastics, one more step in the country's commitment to the environment. It's a peaceful place to live and we appreciate it especially at times when it seems chaos is driving so many other places in the world, including the United States."
International Living's comprehensive guide to Costa Rica can be found here: Complete Guide to Costa Rica
Editor's Note: Members of the media have permission to republish the article linked above once credit is given to InternationalLiving.com.
Further information, as well as interviews with expert authors for radio, TV or print, is available on request. Photos are also available.
For information about InternationalLiving.com content republishing, source material or to book an interview with one of our experts, contact PR Managing Editor, Marita Kelly, +001 667 312 3532, mkelly@internationalliving.com
Twitter: @inliving
Facebook: https://www.facebook.com/International.Living/
About International Living
For 37 years, InternationalLiving.com has been the leading authority for anyone looking for global retirement or relocation opportunities. Through its monthly magazine and related e-letters, extensive website, podcasts, online bookstore, and events held around the world, InternationalLiving.com provides information and services to help its readers live better, travel farther, have more fun, save more money, and find better business opportunities when they expand their world beyond their own shores. InternationalLiving.com has more than 200 correspondents traveling the globe, investigating the best opportunities for travel, retirement, real estate, and investment.