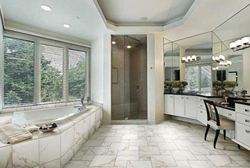 Cottage style bathrooms rely heavily on a small pool of iconic features: a classic clawfoot tub, pedestal sink, white subway and hex tile. But a few small changes can make this homey style feel much more sophisticated.
(PRWEB) June 09, 2015
HomeThangs.com – the Online Home Improvement Store has made their goal to deliver the right product to the consumer. With that in mind, shopping and home design tips, as well as special product selections are being introduced.
Transitional bathroom design has been on the rise this year, with homeowners aiming to strike a balance between ornate traditional elements and simple contemporary ones. There's an especially strong emphasis on sophistication and elegance in design right now, and cottage style bathrooms in particular are getting dressed up and reinvented to match the latest trends. HomeThangs.com has introduced a quick guide to a few effective ways to amp up the elegance of a cottage bath without making it feel overwrought.
In many ways, small design choices can make the biggest difference. Swapping out a clawfoot bathtub for a pedestal tub, or substituting the traditional white porcelain subway and hex tile with a fine white marble will immediately give a cottage bathroom a more traditional feel. Chrome fixtures and furniture (especially simple, modern pieces) will keep the space from feeling too traditional and help give the bathroom a grounded, contemporary feel. The lighting fixtures, too, should act as a bridge between traditional and modern, and help school the eye on how to see the rest of the bathroom. No one piece should be overly ornate, but even the most contemporary elements should lend a sleek, posh air to the more traditional fixtures and materials.
For a more in-depth look at this sort of elegant traditional style, and to see a good example of a dressed up cottage bathroom done well, check out the full article here.
HomeThangs.com is not only a home improvement superstore, it also provides expert design tips and a comprehensive shopping guide, taking the ideas from professional interior designers, and offering tips to the consumers on how to pick the products to best suit their needs.