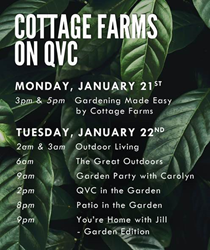 Katie and Kelly bring to QVC fresh perspectives and enthusiasm for plants and flowers that will relate to an even broader audience.
WEST CHESTER, Pa. (PRWEB) January 21, 2019
Cottage Farms announced today the addition of two new hosts for its long-running QVC appearances. Katie Dubow, creative director and trendspotter at Garden Media Group and Kelly Norris, author and director of horticulture at the Des Moines Botanical Garden, launched Cottage Farm's season on January 15, 2019 on QVC2. The QVC main channel garden season will launch on QVC on January 22, 2019, and an hour will be devoted to Gardening Made Easy with Cottage Farms, along with other Cottage Farms items sprinkled throughout the day.
"We've been making gardening easy for more than 70 years by providing our customers gardening inspiration, education and easy-to-grow plants," said Gary Cobb, president of Cottage Hill Nursery. "Katie and Kelly bring to QVC fresh perspectives and enthusiasm for plants and flowers that will relate to an even broader audience."
Cottage Farms has provided top-quality plants to QVC customers since 2001. The collection of more than 150 plants includes such well-known brands as Drift® roses, SunPatiens® sun loving impatiens, and Buzz™ butterfly bushes. Working with QVC hosts, Dubow and Norris will present perennials, annuals, patio trees, shrubs, and edibles, all backed by Cottage Farms impressive guarantee.
"It's exciting to work with such a trusted brand and share my love of gardening," says Dubow, who gardens in West Chester, PA with her two young daughters. "QVC introduces Cottage Farms to millions of people and inspires them to beautify their lives with plants and flowers. Together, we hope to grow life-long gardeners."
"I'm grateful for the chance to join the Cottage Farms Direct team on QVC and continue the long tradition of connecting great gardeners with great plants," explains Norris. "I'm excited to get to know our customers and be a partner in their success with our diverse product lineup."
Cottage Hill Nursery, based in Irvington, Alabama, has been growing top-quality plants since 1947. Since 2001 they have appeared regularly on QVC and have become known as "the grower's grower" to millions of customers shopping on QVC.
"We at Cottage Farms take gardening seriously and select plants to ensure gardening is always fun and easy, even for the most inexperienced gardener," explains Cobb.
Both Dubow and Norris will appear on air, live, with a QVC host. The full line-up can be found at Gardenmediagroup.com/katie-dubow-host-cottage-farms-qvc-show, http://www.cottagefarmsdirect.com/EventsAndAirTimes and by visiting the QVC website.
An award-winning garden communicator and trend spotter, Katie Dubow speaks around the world on garden trends and marketing. She is creative director at Garden Media Group, a public relations firm specializing in the lawn and garden industry. Gardening with her two daughters and her dog has made her an expert on kid- and pet-friendly gardening.
Kelly D. Norris is an award-winning author, plantsman and director of horticulture and education at the Greater Des Moines Botanical Garden in Iowa. His work has been featured in The New York Times, Organic Gardening, Better Homes and Gardens, Martha Stewart Living, Garden Design and numerous regional media.
Since 1947, Cottage Farms has been a leader in the ornamental horticulture industry, providing garden solutions for gardening experts and enthusiasts alike. Renowned for quality plants, integrity and reliability, Cottage Farms has long been the source of premium plants, fertilizers, tools and containers. It has become a one-stop resource for gardening through plant-specific planting guides, website chat and one-on-one help from gardening experts. For more information visit CottageFarmsDirect.com.