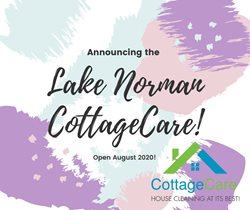 CHARLOTTE, N.C. (PRWEB) September 22, 2020
CottageCare Charlotte has been serving happy customers for many years now and found 2020 to be the perfect time to expand their operations to a new location in Lake Norman! The crazy year of 2020 served as a catalyst for growth and further defined our safety protocols for our customers and crew members. Being mindful of the challenges the virus brought to human to human contact, our protocols have been entirely effective! We are excited for the chance to clean homes in Lake Norman, Davidson, Mooresville, Cornelius, Troutman, Charlotte and Huntersville!
There are, on average, about 165 tasks we perform in the typical home while cleaning. This is not a point-by-point inspection list; it merely summarizes the overall focus and extent to which we go to create an industry-wide best in a CottageCare cleaning. We will always strive for consistency and industry-leading, eco-friendly cleaning from week to week.
We realize our customers don't want to get locked into lengthy contracts. Sometimes when you're stuck in a cleaning contract, the quality of your cleanings can deteriorate over time. We prove our confidence & value of each and every cleaning, by letting our customers choose when to start and stop service. We're proud to say we work with our customers, on average, for over 5 years.
We perform detailed background checks on every crew member before we hire them, and CottageCare is bonded and insured so you can rest easy. Instead of worrying about who will be cleaning your home, you can focus on the benefits of deep cleaning.
CottageCare Lake Norman...House Cleaning At Its Best!