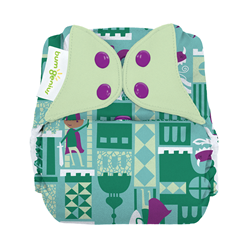 Cotton Babies welcomes two new limited edition Genius Series prints in honor of Jane Austen and Olaudah Equiano to its cloth diaper lineup.
St. Louis, MO (PRWEB) October 18, 2016
Cotton Babies, Inc. welcomes two new limited edition Genius Series prints to its cloth diaper lineup. From adventurers to movie stars, each featured genius has used their talents to leave an inspirational mark on the world. The latest geniuses are Jane Austen and Olaudah Equiano.
 
Inspired by one of the greatest English writers in history, the Austen print is quaint, elegant and captivating. Like many of Jane Austen's novels, this print is filled with beautiful, 19th century accessories, including whimsical tea cups and saucers, antique cameos and elegant flowers. Jane Austen was best known for "Pride and Prejudice." She used various styles of writing that not only broke the literary barriers of her time, but have also been accepted by modern-day readers and authors. Austen's literary work continues to entertain and inspired new generations through film, television, theatrical adaptations and more.
 
Equiano lived from 1745-1797 and endured many years of oppression as a slave at sea. After reclaiming his freedom, he penned his autobiography recounting his imprisonment and revealing the horrors of slavery to the world. Equiano became a catalyst in passing the Slave Trade Act of 1807. His courage to fight for what he believed in - against all odds - was the inspiration for the Equiano print featuring a knight taking on a dragon.
 
Both limited edition prints are available in bumGenius Original 5.0™, Freetime™, new & improved Elemental™ and Flip™ diaper covers. Besides diapers, shoppers will delighted to find other Genius Series merchandise including t-shirts, hoodies, drinkware and more. Cotton Babies is honored to welcome these prints into the Hall of Genius.
 
About Cotton Babies
Calling Fenton, MO home, Cotton Babies is a privately held market leader in the juvenile product industry and a diverse retailer, offering cloth diapers and a wealth of other products designed to make parenting easy. Cotton Babies is a socially active organization supporting outreach and diaper grant programs for financially underprivileged families. CEO Jennifer Labit is a founding chair of the Real Diaper Industry Association for manufacturers, retailers, diaper services, health care providers, and other parties interested in supporting the cloth diaper market. Cotton Babies products are sold on CottonBabies.com and through independent juvenile products stores and major retailers. Cotton Babies diaper brands include bumGenius™, Flip™, and Econobum™. Find Cotton Babies on Facebook, Pinterest, and the OEKO-TEX® Buying Guide.