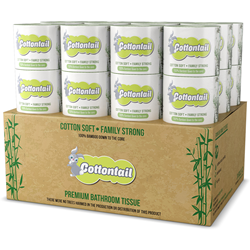 Cottontail offers greater sustainability with plastic free packaging, more value with bigger rolls, and increased environmental protection with a core made entirely from bamboo
MENIFEE, Calif. (PRWEB) November 19, 2020
Cottontail, a premium bamboo toilet paper brand produced and distributed by consumer products company Nature Fluent, is now available for sale on Amazon with free shipping. In order to help customers find the products that they need during the COVID-19 pandemic, Amazon has increased their controls on new product listings for certain Personal Safety and Household products and approved the bamboo toilet paper brand's new listing in the Personal Safety and Household product category.
"We are thankful for Amazon and their decision to include our bamboo toilet paper in their Personal Safety and Household product category," said Joel Hall, a representative for the Cottontail brand. "Not only is this a win for consumers who demand more sustainable products, but also for those shoppers who want to have a more convenient and safer shopping experience during this COVID-19 pandemic."
As a premium bamboo toilet paper brand, Cottontail offers greater sustainability with plastic free packaging, more value with bigger rolls, and increased environmental protection with a core made entirely from bamboo. Sold in a 24-pack, each roll has 370 premium 3-ply sheets delivering more than a half of mile of toilet paper in every carton. Cottontail bamboo toilet paper is soft, extremely durable, clog-safe and septic safe making Cottontail perfect for the family wanting to reduce their ecological footprint without compromising quality or comfort.
In September a partnership was announced with One Tree Planted, a nonprofit on a mission to make it simple for anyone to help the environment by planting trees, launching the #tpfortrees initiative, whereby for every 24 rolls purchased, one tree is planted to help to restore and conserve some of America's most exploited forests.
Customers can purchase 24 rolls of Cottontail bamboo toilet paper for $39.99 with free shipping, making Cottontail toilet paper very competitive compared to other popular bamboo toilet paper brands.
To purchase your 24 rolls today visit:
https://www.amazon.com/dp/B08BKQ26CQ?ref=myi_title_dp
Follow the Cottontail brand at:
https://www.instagram.com/CottontailUSA
About Nature Fluent
Nature Fluent is a sustainable consumer products company that advocates leading an organic lifestyle that supports the well-being of all individuals and the thriving of communities. For every 24 roll carton of Cottontail bamboo toilet paper purchased, we plant one tree in order to preserve our planet for generations to come. To learn more, visit http://www.cottontailusa.com