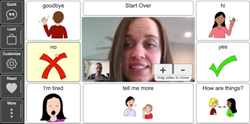 All of us who are involved in developing Co-VidSpeak have had loved ones intubated and unable to communicate. We couldn't let that become commonplace if we had the ability to help.
SOUTH JORDAN, Utah (PRWEB) August 20, 2020
CoughDrop (coughdrop.com), in collaboration with LessonPix (lessonpix.com), today announces the general release of a new video calling platform called Co-VidSpeak (covidspeak.org), targeted at supporting people who cannot speak. Hospital patients, students with disabilities, and seniors can all struggle connecting remotely when they cannot speak, but in a physically-distanced environment like the Covid-19 pandemic, these connections become all the more important. Co-VidSpeak enables non-speaking individuals to participate in remote communication and connect with their loved ones and supporters.
Co-VidSpeak was created after the Covid-19 pandemic hit, and forced hospitals to institute no-visitor policies. "When I heard about people being isolated while on a breathing tube, my heart went out," notes Brian Whitmer, founder of CoughDrop, Inc. "My daughter is non-verbal and has been on a breathing tube in the ICU multiple times, and thinking of her having to recover alone like that was hard to swallow. We wanted to create something that could help people stay connected even if they couldn't gather in-person."
Whitmer collaborated with Bill Binko, co-founder of LessonPix, to brainstorm ways that technology could address the issue of physical distancing for non-speaking individuals. Traditional video calling platforms result in a passive experience for those who cannot speak, and in-person communication, while more engaging, is often not possible with physical distancing protocols. Binko suggested a digital version of the clear plastic choice boards that speech therapists use for non-verbal clients, and Whitmer immediately began implementing a software solution.
Co-VidSpeak is a one-on-one video calling platform, where the video feed is surrounded by labeled buttons that can be loaded dynamically. The non-speaking individual can look at these buttons, and the other person can identify the button they are gesturing towards through the video feed and hit it, thus allowing the non-speaking person to participate in the remote video call instead of being a passive observer. For students or patients who can use their hands, they can also hit the buttons directly and the platform will speak out loud on their behalf.
"We've been piloting Co-VidSpeak since May," says Whitmer. "Early reports are that people prefer Co-VidSpeak over video calling or paper-based alternatives, and that it has helped with participation, engagement and satisfaction." While Co-VidSpeak was initially built to support hospital communication, pilots have also been successful in teletherapy and remote learning environments. "There's nothing like this out there right now, and we want to get it out to everyone who can benefit," states Whitmer.
Co-VidSpeak runs in modern browsers on computers, tablets and phones. There are templates for basic questions, choice-making, classroom activities, talking to a doctor, reading a book together, pain scale, etc. and people can also easily create their own layouts to use temporarily or save for long-term. The platform is open source and teams can run it themselves, but CoughDrop also offers a subscription option for people who need it. "Families already have enough expenses", notes Whitmer. "And while we need to cover our costs, we want to minimize that as much as we can, so accounts are only billed for months where they use more than 30 minutes of call time. That way nobody has to worry about cancelling for summer break or anything."
CoughDrop is also pursuing grants to fund the usage of Co-VidSpeak. For example, in collaboration with LessonPix and ATMakers, Co-VidSpeak is currently available for free to support individuals on breathing tubes due to the Covid-19 pandemic. "All of us who are involved in developing Co-VidSpeak have had loved ones intubated and unable to communicate," says Bill Binko. "We couldn't let that become commonplace if we had the ability to help. I'm so proud of that we've been able to do and am happy we can continue to share it free while we face this challenge."
Co-VidSpeak is available online at covidspeak.org. Users can try a demo room for free or sign up for a paid account starting today.
About CoughDrop
CoughDrop is a provider of simple, flexible, cloud-based AAC apps written for today's communicators. CoughDrop embraces the web to provide simpler management, reporting and resources to help teams succeed. CoughDrop, Inc. offers multiple apps, including CoughDrop AAC, and Co-VidSpeak. Learn more at coughdrop.com.
About LessonPix
LessonPix, a female-owned business, is an easy-to-use online resource that allows users to create various customized learning materials. LessonPix is used by therapists and teachers around the country to support all individuals in their development. Learn more at lessonpix.com