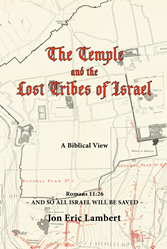 "The first goal of my book is to hasten the coming of the Day of Christ by fulfilling two critical prophecies," said Lambert. "These are the identification of the Lost Tribes of Israel and encouraging the rebuilding of the Temple in Jerusalem on its correct site."
ASHBURN, Va. (PRWEB) January 09, 2023
Author Jon Eric Lambert is convinced that two monumental events must take place to hasten the second coming of Christ. The first suggested event is to locate the Lost tribes of Israel. The second proposed event is rebuilding the Temple of Jerusalem in its proper location.
In "The Temple and the Lost Tribes of Israel: A Biblical View," Lambert provides readers with a theological exploration of future biblical events that may hasten the return of Jesus.
"The first goal of my book is to hasten the coming of the Day of Christ by fulfilling two critical prophecies," said Lambert. "These are the identification of the Lost Tribes of Israel and encouraging the rebuilding of the Temple in Jerusalem on its correct site."
Christians and Jews may find their long-held traditions and views of the Temple's location challenged through the evidence presented. The prevalent belief that Israel's lost tribes are lost and gone forever may also be fundamentally changed. Through the presentation of 19th century maps and biblical arguments, Lambert hopes that all Israel will embrace the idea that the Messiah has already come and will soon return.
"I have tried to provide an accessible way to understand these key prophecies," said Lambert, "by weaving together the text of the Bible, old maps of Jerusalem, and photos of the biblical sites we have located and identified in Jerusalem. My hope is that readers will gain a greater understanding of these soon to be fulfilled prophecies."
"The Temple and the Lost Tribes of Israel: A Biblical View"
By Jon Eric Lambert
ISBN: 9781664279766 (softcover); 9781664279759 (hardcover); 9781664279773 (electronic)
Available at WestBow Press, Amazon and Barnes & Noble
About the author
Jon Eric Lambert graduated from the Washington Bible College (1975) and the Conservative Baptist Theological Seminary, now Denver Seminary (1980). His interest is in the prophetic Word of God—both first and second comings of Christ. He served as a chaplain in the United States Army for 21 years with tours of duty in Somalia and Iraq. He also served as pastor for two churches, in New York and Virginia, and taught at a Christian school for many years. To learn more, please visit https://www.westbowpress.com/en/bookstore/bookdetails/835233-the-temple-and-the-lost-tribes-of-israel.