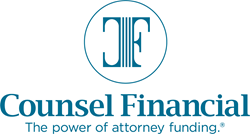 WILLIAMSVILLE, N.Y. (PRWEB) April 01, 2020
Counsel Financial is pleased to announce the addition of Matt Rimmer to its business development team. Matt brings with him an extensive background in both personal injury litigation and litigation support services. At Counsel Financial, he will consult with plaintiffs' firms on the unique financial challenges that arise in contingent fee litigation and provide solutions customized to each individual client's needs.
Matt holds a bachelor degree from Fairfield University and a Juris Doctor degree from Barry University School of Law. During his studies, Matt worked at a high-volume personal injury firm in Orlando, Florida, where he continued employment post-graduation. He participated in litigating numerous cases that resulted in multi-million dollar verdicts in favor of the plaintiffs. He then went on to consult law firms on a variety of litigation support issues. In his previous role as Director of Mass Tort Solutions for one of the world's largest legal service providers, Matt structured litigation management and settlement solutions for mass tort firms across the United States.
Counsel Financial has provided working capital exclusively to the plaintiffs' bar for two decades and is exclusively endorsed by the American Association for Justice and The National Trial Lawyers. The company continues to adjust its financial products to fit the changing legal landscape and build upon its experienced team of attorneys and professionals, in order to best serve its clients. With added flexibility, Counsel Financial can now meet any law firm need, with funding from $500,000 to $50 million+.