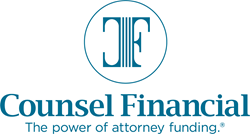 WILLIAMSVILLE, N.Y. (PRWEB) April 13, 2021
Counsel Financial will continue its long-standing commitment as the headline sponsor of the "Business of Law" program during the Mass Torts Made Perfect™ Virtual Vegas seminar (MTMP) this week. The three-day virtual conference will offer continuing education, informative sessions on the latest litigations from leading attorneys and networking opportunities.
The conference agenda is tailored to plaintiffs' attorneys focused on mass tort litigation and those looking to enter the practice area or build upon their existing case portfolio. MTMP hosts prominent speakers to share their insight on emerging litigations, adding to and diversifying caseload, lien resolution, financing and advertising. With in-person events still largely stalled, MTMP's virtual platform provides for networking between trial lawyers from across the nation, as well as with vendors and legal service providers.
Counsel Financial will present during the Business of Law track, outlining creative financial solutions available to law firms. Navigating the options in today's marketplace can be confusing—the Company will share concrete examples of actual financings to help provide clarity on what is available to contingent-fee firms. In addition, members of the Counsel Financial team will participate in two panel discussions during the seminar's Nuts & Bolts and Class Actions programs. President & CEO, Paul Cody hosts class action leaders Greg Coleman, Esq. and Dan Bryson, Esq. of Milberg Coleman Bryson Phillips Grossman who will discuss some of the top class actions slated to make significant progress in 2021, legal issues to be aware of and the impact of COVID-19 on class action litigation.
Counsel Financial provides innovative financing solutions that are tailored to meet the unique challenges faced by plaintiffs' attorneys, including those looking to add a mass tort component to their portfolio or firms who are heavily involved in mass tort litigation. With enhanced flexibility and better terms, it can now meet any law firm need with financing options from $500,000 to $100 million+. The attorneys and professionals on staff work with each individual law firm client to ensure the financing is customized to address each specific firm's situation.
About Counsel Financial
Counsel Financial is the largest provider of working capital lines of credit and other funding exclusively to plaintiffs' attorneys in the litigation finance industry, having loaned almost $2.0 billion to law firms since inception. Counsel Financial sets the standard for innovation and flexibility in its loan and funding offerings, structuring terms that are conducive to the unique demands of contingency-fee practices. Leveraging 200+ years of internal legal experience, Counsel Financial has financed the growth of firms in every area of plaintiffs' litigation, including personal injury, mass torts, class action, environmental and labor and employment. The company is exclusively endorsed by multiple national and state trial organizations, including the American Association for Justice and The National Trial Lawyers.