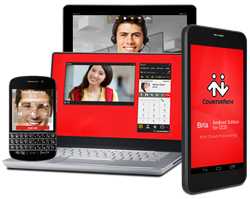 "CounterPath Bria is a great hosted VoIP and video option for remote or mobile workers to stay connected to their business lines." - Tom Costelloe, VoIP Supply Marketing Manager
Buffalo, NY (PRWEB) April 10, 2014
VoIP Supply is announcing today the addition of CounterPath Bria Software as a Service (SaaS) Softphones to its online catalog as another option for VoIP phone customers to stay connected wherever they are with their mobile phones, laptops, tablets, or desktop computers.
The range of CounterPath Bria Softphone connection options help employees stay productive by giving them access to voice, messaging, and video on their smartphones, tablets, laptops, and desktop computers; Bria users can work remotely or on-the-go with continual access to business calls and messages.
Businesses will enjoy lower communication costs with Bria Softphones that are a low-cost, low-risk investment that relies on a hosted cloud network managed by CounterPath.
VoIP Supply is now offering CounterPath Bria Software as a Service (Saas) for:

Apple iPhone
Apple iPad
Apple Mac Computers
Android Smartphones
Android Tablets
Windows PC
Bria Softphone clients are available with 12 month, 24 month, or 36 month licenses with no additional equipment to buy or set-up costs to incur. Bria offers business class communication quality that is 99.999% reliable.
"CounterPath Bria is a great hosted VoIP and video option for remote or mobile workers to stay connected to their business lines and for companies that don't want the burden of managing the system themselves," said Tom Costelloe, VoIP Supply Marketing Manager
For more information about CounterPath Bria Softphones for Apple, Android, and Windows platforms, talk to a friendly VoIP Engineer today by calling 800-398-8647 or visit http://www.voipsupply.com/manufacturer/counterpath.
About VoIP Supply
We are a place of uncovering, cultivating and developing leaders. A world class place to work with big goals, a clear vision, defined purpose and a dedicated team of passionate business professionals. We love what we do and do it better than any of our competition.
Since 2002, VoIP Supply has been the leading supplier of VoIP equipment and complete VoIP solutions in North America. We are known in the industry as responsive and knowledgeable VoIP product experts.
With everything you need for VoIP, VoIP Supply has grown rapidly throughout the years. VoIP Supply is a three-time Inc. 500/5000 honoree, listed by Business First as one of WNY's Most Admired Companies, as well as one of Western New York's Best Places to Work for many consecutive years, including 2012. VoIP Supply is also the first Certified B Corporation in Western New York.