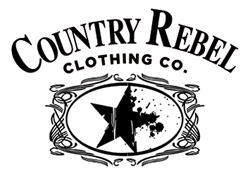 San Diego, CA (PRWEB) July 24, 2014
Those who are fans of country music oldies can now get their fill at CountryRebel.com. This newly debuted website, which specializes in unique country style clothing, has a special feature that allows music lovers to look for their favorite country music artists, bands, and songs at the Country Rebel video vault. A newly created category for classic country music makes it even easier to find the best country songs from back in the day.
The website clearly defines it's mission in its "about" section. Here it says, "Country Rebel Clothing Co. is dedicated to providing the highest quality designs and apparel that inspire the rebel bad *ss within each of us. Our mission is simple. Inspire, pioneer and spread the country lifestyle and rebel spirit that make this the greatest nation in the world. Founded in San Diego, CA, Country Rebel Clothing Co. is innovating the country apparel and entertainment industries."
Although the Country Rebel brand does cater to a newer generation of country music fans, it also has deep roots in everything that makes the country lifestyle so unique and noteworthy. This can be seen in many of the clothing company's t shirt designs, such as the "American Star" and of course the ladies' "Strait To My Heart" tee that pays homage to the "King of Country" himself.
Those who want more of George Strait, Reba McEntire, Dolly Parton, Vince Gill, Johnny Cash and more, while browsing through the cool clothing designs at the Country Rebel online store, can simply go to the video section and click the "Classic Country" option from the drop down menu to the right of the page. There they are sure to find all of their old favorites, and possibly even some new favorites as well.
As if country fans needed any more incentive to go check out Country Rebel, the website also offers visitors a chance to sign up for the Country Rebel VIP List for free. By signing up for the VIP list, country music fans will get access to great discounts at the Country Rebel store, as well as getting the chance to win concert tickets, signed memorabilia, and invitations to exclusive parties.
To find out more about what Country Rebel Clothing Co. has to offer, head to CountryRebel.com.