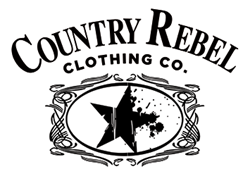 San Diego, CA (PRWEB) August 24, 2014
A recently launched clothing and entertainment brand named Country Rebel Clothing Co. has marked the release of their online store featuring a selection of their distinctive country-styled clothing guaranteed to put a spark on any country fan's eyes. In addition to innovative apparel designs and accessories, Country Rebel Clothing Co. visitors can now also play country music videos from every era at the website's newly updated video vault.
This video section, which can be accessed from the Country Rebel store's main page, is continuously updated with the best country music available. While the brand is geared to the new generation of country fans, the music selection offered at this website is not limited to just today's top hits. Modern country artists share the stage with old-but-gold classics that simply are too good to be out of style, and songs from every era in between.
Recent uploads include Patsy Cline's "Crazy" from 1961, Randy Travis' 1987 hit "Forever and Ever, Amen", and Miranda Lambert's first major hit from 2005, "Kerosene". The variety of country music posted to the video vault is enough to keep any country fan busy for hours. Those who are looking for a particular artist or song can also easily search the website by clicking the drop-down menu to the right of the video page and looking up the artist, band or country music genre they seek.
Aside from offering "Quality Threads & Entertainment" (as per the company's motto) the Country Rebel brand also offers fans a chance to join their VIP list for free, which gives country music fans access to receive special discounts on apparel, along with weekly opportunities to win free concert tickets, autographed memorabilia, and invitations to exclusive parties.
To check out the updated country music video section, shop for great clothing, and learn how to sign up for freebies with the Country Rebel VIP list, visit CountryRebel.com today!