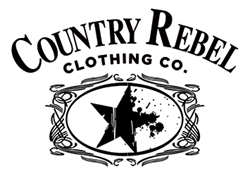 San Diego, CA (PRWEB) September 09, 2014
Country Rebel Clothing Co. is a new clothing and entertainment brand that offers a fresh new look for the newest generation of country music fans without diverting from the values that those who love the country lifestyle hold dear. The brand's new website, CountryRebel.com promises "Quality Threads & Entertainment" with their edgy country music inspired clothing and their Country Music Video Vault which features songs from the top country music artists around.
Recent additions to the Country Rebel Video Vault include songs by country legends George Strait, Conway Twitty, Merle Haggard, Martina McBride, Vince Gill, Patty Loveless, John Michael Montgomery, Rodney Crowell and the Charlie Daniels Band.
Country rebels who are looking for a particular artist or band can also search the video section's dropdown menu at the upper right-hand side of the page and simply select the name of their favorite country artists or country music genre to view all the videos that have been posted under that name. With huge country stars from every era of country music history, from its classic roots to its modern-day embodiment, there really is something for everyone who loves country music on CountryRebel.com.
Of course, great country music is just one aspect of the Country Rebel promise. The Country Rebel store also carries a great selection of modern and edgy country music inspired clothing designs. These designs definitely reflect the carefree and rebellious nature of the brand, with styles such as the "Country Rebel Classic" encouraging country rebels to "Live For The Moment" and "Rise Against Conformity", and others like the "Country Rebel Bad-A**" and the "Country Rebel Whiskey" which speak for themselves.
However, underlying the rebellious nature of the brand is deep-rooted American pride. Fans who follow Country Rebel Clothing Co. on Facebook, Instagram, and other social media channels will quickly uncover an un-predictable blend of dry humor, emotionally-charged song quotes, rebel attitude, and un-filtered patriotism.
If listening to all-time favorite country songs and getting great looking clothing wasn't enough, country rebels may also sign up for the Country Rebel VIP List - at no charge. Members of the VIP list will gain access to great discounts at the online store at CountryRebel.com as well as the chance to score free gifts such as concert tickets, signed collectibles and even invitations to the hottest exclusive parties. Country fans can sign up for the VIP list at Country Rebel's main website or through the brand's Facebook or Instagram pages.
To learn more about Country Rebel Clothing Co., visit CountryRebel.com