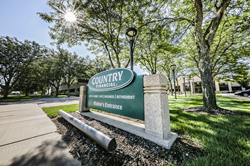 "Innovation is all about taking calculated risks and, as a newer member, COUNTRY Financial was able to quickly get up-to-speed with our products and move directly into testing."
MALVERN, Pa. (PRWEB) January 19, 2021
The Institutes RiskStream Collaborative™, the risk management and insurance industry's largest enterprise-level blockchain consortium, recently announced COUNTRY Financial® won the consortium's 2020 Innovator Award. This was the first year awards were granted within the consortium. The goal was to publicly acknowledge organizations that have shown exemplary support of the consortium's mission throughout the year.
"Innovation is all about taking calculated risks and, as a newer member, COUNTRY Financial was able to quickly get up-to-speed with our products and move directly into testing," said Christopher McDaniel, President of RiskStream Collaborative. "Because COUNTRY Financial quickly covered so much ground, they are now moving into testing First Notice of Loss Data Sharing with other members. COUNTRY has been a model member and an innovative contributor to the Collaborative."
COUNTRY Financial joined RiskStream in early 2020 and has been very active over the last year, participating in member to member proof of insurance verification tests over the summer and FNOL data sharing tests in the fall. COUNTRY Financial team members have also been active within commercial lines working groups, assisting in application design and requirement setting.
"We're extremely proud to earn such an award in our very first year with the consortium, and I'd like to thank our Innovation and COUNTRY Technology teams for pushing us forward into new and exciting areas," said Jim Jacobs, COUNTRY Financial CEO.
"As we've worked toward a more cohesive, collaborative team at COUNTRY to help carry out our strategy and objectives to better serve our clients, we are excited to share and build upon our experiences," added Brandy McNalis, Vice President of Strategy and Innovation at COUNTRY Financial. "We are excited about where collaborative innovation can take us, our clients and the industry as whole."
The RiskStream Collaborative offers insurance solutions for personal lines, commercial lines, reinsurance and life & annuities sectors. Members (carriers, brokers or reinsurers) lead all areas of RiskStream's governance and activity. For example, members work with RiskStream staff to design use cases on behalf of the industry and then work with RiskStream staff and service providers to monitor and test the build out of applications. The Collaborative aims to expand its network of members and connect insurance-oriented organizations in 2021 to create greater efficiencies and achieve growth opportunities through blockchain innovations.
About COUNTRY Financial®
COUNTRY Financial is a marketing name for COUNTRY Life Insurance Company®, COUNTRY Mutual Insurance Company® and their respective subsidiaries, located in Bloomington, Ill. COUNTRY Financial serves about one million households and businesses throughout the United States and offers a wide range of insurance and financial products and services.
About The Institutes RiskStream Collaborative™
The Institutes RiskStream Collaborative™ is the risk management and insurance industry's first enterprise-level blockchain consortium that brings together experts and developers to advance insurance-specific use cases via Canopy, a custom blockchain architecture. The RiskStream Collaborative is committed to equipping organizations to work together to inspire product innovation, enable efficiencies, and open new technological frontiers.
About The Institutes | Risk and Insurance Knowledge Group
The Institutes, the leading provider of risk management and insurance knowledge education and solutions, offer professional designations, including the CPCU® program. In addition, The Institutes provide introductory, foundational, and leadership courses and programs; online and continuing education courses; custom solutions; events and conferences; online and print news platforms; assessment tools; and research reports.
CPCU is a registered trademark of The Institutes. All rights reserved.