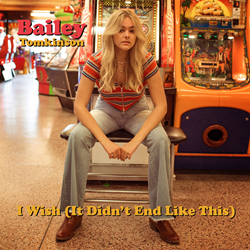 Bailey was described by Brad Paisley as like an early Taylor Swift or Emmylou Harris
ST. IVES, England (PRWEB) November 20, 2019
Bailey Tomkinson, a singer songwriter from Cornwall and one of UK Country Music's fastest rising artists will release her most direct and emotionally rich work yet, on December 6th 2019.
Contributing to the high levels of anticipation for new material were recent endorsements by US country music legends Brandy Clark and Brad Paisley. Brandy Clark described Bailey's cover of "Hold My Hand" as beautiful and Brad Paisley played last single "Movie Scene" on his BBC Radio2 show describing her as like a "early Taylor Swift or EmmyLou Harris".
The new single, her first since turning 20 in September doesn't disappoint. "I Wish (It Didn't End Like This)" showcases Bailey's growing maturity and the confidence that those endorsements have given her. It's an uptempo number with the drive of an 80's Springsteen classic combined with Bailey's stunning country tone.
"For me, this song represents the culmination of a relationship I explored with my first single "Hey Ace". I wrote that song aged 15, so 5 years on I revisited it from a wider perspective. It's very much a song about regret, like the saying goes, how there are two great tragedies in life, one is not getting what you want and the other is getting it!'
"Truth be told, I wrote it all in one take sat with my guitar on the bathroom floor, by the time I'd finished I was in tears. I do promise to keep it together when I take it out on the road though!" she adds.
2019 has been a breakthrough year for Bailey with 3 singles reaching top 3 on the iTunes country charts, and her release "Movie Scene" receiving over 100,000 spotify streams and a much-coveted slot on the editorial playlist "Very Nearly Nashville". I Wish is available to Pre-Save ahead of the December 6th release date.
2020 will see Bailey take her growing catalogue out on tour. The first stop she's announced is a headline slot with her full band at the famous O2 Academy, Islington on January 18th. Tickets are available on http://www.baileytomkinson.com/tickets
Note to Journalists: Bailey Tomkinson is available for one on one interviews, instagram takeovers etc with members of the press in the run up to the single release date. To schedule a call or send questions, please contact marktomkinson@me.com.
ABOUT Bailey Tomkinson
A singer-songwriter from St Ives, Cornwall, Bailey Tomkinson's mastery of pop-country hooks and relatable emotional storytelling has earned her comparison with early Taylor Swift & Emmylou Harris on BBC Radio2 from none other than country music legend Brad Paisley.
With her last 3 singles reaching #2 on the UK Country Music iTunes Charts, Bailey has quickly emerged as one of the UK Country scenes top acts. Regularly receiving 20,000 monthly listeners on Spotify, Bailey's latest single 'Movie Scene' has been streamed over 100,000 times and earned placement on the 'Very Nearly Nashville' editorial playlist,
Now 20, Bailey signed her first publishing deal with German Indie label FBP music at the age of 18. Where she really comes into her own is as a live performer capable of stunning sets both as a solo acoustic act or with her full band. Building a strong festival reputation in 2018, 2019 has seen further progression supporting KT Tunstall, earning a prestigious slot at Boardmasters, and making her debut at the famous O2 Academy in Islington where she will return to headline in early 2020.
Extensive global radio airplay has included BBC Radio 2, Regional BBC radio, Chris Country, Country Hits UK and Siren FM. Her videos have appeared on Total Country and Keep it Country TV. Bailey has also been interviewed extensively in the music press and recorded a live set with CountryLine TV.
Musical influences include Kacey Musgraves, Abba, John Denver, Bruce Springsteen & Taylor Swift. In her spare time, Bailey can be found surfing on Porthmeor Beach in Cornwall.