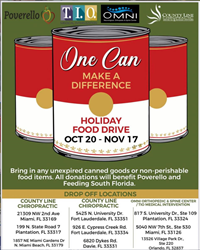 MIAMI (PRWEB) November 09, 2021
County Line Chiropractic Medical & Rehab Centers, a provider of top-quality chiropractic care in South Florida, along with OMNI Orthopedic & Spine Center and TIO Medical Intervention are accepting donations through November 17th. All donations will benefit Poverello and Feeding South Florida.
Poverello is a specialized food pantry that provides food as medicine to the poor and sick in South Florida. Founded in 1987, Poverello's goal was to feed people who were dying alone and rejected by society with complications from AIDS. Today, Poverello continues to help those with HIV and other illnesses such as cardiac and kidney problems, glycemic disorders, and cancer.
Feeding South Florida, a leading domestic hunger-relief organization, serves Palm Beach, Broward, Miami-Dade, and Monroe counties. Their mission is to end hunger by providing immediate access to nutritious food, leading hunger and poverty advocacy efforts, and transforming lives through innovative programming and education.
Those interested are asked to bring in any unexpired canned goods or non-perishable food items to any of County Line's six convenient South Florida locations:

Miami Gardens - 21309 NW 2nd Ave. Miami, FL 33169
North Miami Beach - 1857 NE Miami Gardens Dr. North Miami Beach, FL 33179
Plantation - 199 N. State Road 7 Plantation, FL 33317
Pembroke Pines - 6820 Dykes Rd. Southwest Ranches, FL 33331
Lauderhill - 5425 N University Dr. Fort Lauderdale, FL 33351
East Fort Lauderdale - 926 East Cypress Creek Road Fort Lauderdale, FL 33334
County Line Chiropractic's goal is to make a difference in the South Florida community, one can at a time. They hope to raise awareness about hunger in their community and encourage others to help so families and loved ones can have a special holiday season.
The holiday food drive donations will also be accepted at the OMNI and TIO locations:
817 S. University Dr., Ste. 109 Plantation, FL 33324
5040 NW 7th St., Ste. 530 Miami, FL 33126
13526 Village Park Dr., Ste. 220 Orlando, FL 32837
For more information about the Holiday Food Drive, please contact County Line Chiropractic at 1-800-811-1231.
More About County Line Chiropractic
At County Line Chiropractic, our mission is to help our patients find pain relief through natural recovery. Our experienced chiropractors are determined to find the source of your injury and design a customized care plan to heal your body effectively and naturally to reduce long-term or chronic pain.
We have been serving the residents of Miami Gardens, North Miami Beach, Plantation, Pembroke Pines, Lauderhill, and East Fort Lauderdale in Florida since 1986 and are ready to help you. We offer chiropractic care to anyone suffering from chronic pain or muscle aches and pains, as well as car accident victims.
Whatever your pain stems from, we will help find the cause and offer relief. Our chiropractors in the Broward and Miami-Dade counties help develop customized, non-invasive plans for long-term chiropractic care.
To make an appointment, please visit our website or call 1-800-811-1231.