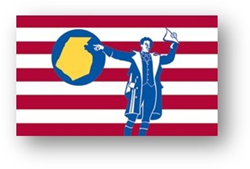 "Frederick County values the arts, and we want to encourage talented artists of all ages to participate in the contest to redesign our flag." - Jessica Fitzwater, Frederick County Executive
FREDERICK, Md. (PRWEB) February 06, 2023
The winner of Frederick County's 275th Anniversary Flag Redesign Contest will receive a cash prize of $1,275 and a full-size flag with their design. The decision to add prizes to the contest was made following widespread community feedback.
"We heard from many people who stressed the need to compensate artists for their work," Frederick County Executive Jessica Fitzwater said. "Frederick County values the arts, and we want to encourage talented artists of all ages to participate in the contest to redesign our flag."
The current Frederick County flag features nine red and white stripes and an image of Francis Scott Key pointing to an outline of the county. It was designed in 1976 by resident James Pearl, who won a Bicentennial contest that was open to county residents of all ages.
Frederick County's 275th Anniversary Committee is sponsoring the current contest to replace the nearly 50-year-old design. The competition is open to anyone who lives, or has lived, in Frederick County. People may submit one design per applicant, now through Friday, March 31, 2023.
A selection committee will score designs based on simplicity, color scheme, and message/narrative. The three top-scoring designs will be voted on by the public. The winner will be announced on Flag Day, June 14.
Designs should be submitted as full-color, high-resolution PDF, JPG or PNG files in landscape format. Images should be original and may not include copyrighted content. They should be easily displayed on a 3'-by-5' cloth flag to be flown on a flagpole. Designs should include a title and narrative. The goal is to illustrate a positive image of unity and represent all residents of Frederick County.
Details on how to submit designs can be found by visiting frederickcountymd.gov/275flagcontest.