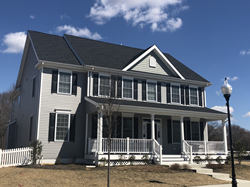 "The entire homebuying process was just awesome," said Katz. "It was seamless and very easy through to completion. Kelly, Dana and Debbie were all extremely knowledgeable and helpful with all of our questions."
CHESTERFIELD, N.J. (PRWEB) April 23, 2019
Always up for a good adventure, Randy and Stacy Katz were on the hunt for a new home after a work relocation brought them to New Jersey – a state they had never been to before. After looking at over 40 homes with a realtor to no avail, Randy stumbled upon the Traditions at Chesterfield website. "As soon as we toured the Traditions at Chesterfield community, we knew it was the one for us," said Katz. "We viewed it as a new adventure in our lives, so off we went."
Randy and Stacy Katz moved into their new Traditions at Chesterfield home in February. "The entire homebuying process was just awesome," said Katz. "It was seamless and very easy through to completion. Kelly, Dana and Debbie were all extremely knowledgeable and helpful with all of our questions."
The Katz family selected the Fredericksburg home design. "It was a model home that was for sale," Katz said. "We loved the fact that it was a corner home on a huge lot and we were able to put up a beautiful fence for our pups."
The Fredericksburg home design offers 3,654 sq. ft. of living space with four bedrooms, three-and-a-half baths and a two-car garage. "We love the entire layout of the home," said Katz. "The master bedroom is just as amazing as the family room."
The quaint neighborhood is located in a rural area near parks, farms, wineries and other popular attractions. It is so well maintained and welcoming, according to Katz. "We are most looking forward to the completion of the shops, which are just steps away from our home," he said. "It is just so exciting to have the convenience of the shops in our community."
For those looking to purchase a new home at Traditions at Chesterfield, Katz encourages you to look at the community in its entirety. "It truly has a lot to offer," he said. "It is centralized so there are so many places and things to do. The best part is there is no HOA and you have the option to put a fence around your property. This was a major factor for us."
Nestled in Chesterfield, NJ, Traditions at Chesterfield is part of the 500-acre Old York Village. "We love our new home and could not be prouder of telling people about it and where it is located," said Katz. "We also love the fact that we are in close proximity to many popular New Jersey destinations and only 40 minutes to Philadelphia."
For those interested in a Fredericksburg home design, Traditions at Chesterfield will be offering another Fredericksburg quick move-in home on a private manor homesite available early Fall. For details, call 609-424-0026. To learn more or chat online, visit http://www.TraditionsAtChesterfield.com.
About Traditions at Chesterfield
Traditions at Chesterfield is ideally located in Chesterfield, voted "#1 Best Place to Live in Burlington County" by Philadelphia Magazine. It is also convenient to West Windsor, Robbinsville, East Windsor and Monroe. The community offers single family homes for sale in Chesterfield NJ that highlight award-winning neo-traditional designs and are Energy Star Certified®.
The community is located in walking distance to Chesterfield Elementary School, which serves students in pre-kindergarten through sixth grades. The school boasts an A rating for 2019 Best Schools on Niche.com and is also rated 8/10 in test scores and 8/10 in student progress on GreatSchools.org.
The New Jersey Turnpike, I-295, routes 206, 130 plus the Hamilton Train Station are all easily accessible to Traditions at Chesterfield for commuting to Philadelphia or New York City. Residents will find entertainment at nearby Old York Country Club, Laurita Winery, local farms offering fresh produce, fruit and apple picking, along with horseback riding. Shopping is just eight minutes away at Hamilton Market Place, and a short drive to Quaker Bridge Mall. Mercer County Park and shopping at Jackson Outlets is also nearby, and family thrill seekers can visit Six Flags Great Adventure, Hurricane Harbor and Safari Park, all just 30 minutes away. Traditions at Chesterfield community residents enjoy the bike and walking trails throughout the 500 acres of Old York Village, and the recent addition of retail shops directly within the community.
Interested homebuyers can visit the Traditions at Chesterfield Sales Office, located at 7 Borden Lane, Chesterfield, NJ (GPS: 38 Old York Road, Chesterfield). The Sales Office is open from 10am to 5pm daily. Schedule an appointment with an on-site sales consultant by calling 609-424-0026. For more information or to chat online, visit http://www.TraditionsAtChesterfield.com.
*About American Properties Realty, Inc.
American Properties Realty, Inc., A Licensed Real Estate Broker, continues its proud 40-year tradition of introducing award winning communities that provide excellent quality, convenient locations and affordable pricing for New Jersey homebuyers. The Principals of American Properties Realty, Inc., have been involved in the creation of residences ranging from luxurious estate homes to master planned communities of apartments, condominiums, townhomes and single-family homes. Contact us now to find the community that's right for you!
Single family homes for sale Chesterfield NJ
Single family homes for sale Burlington County NJ