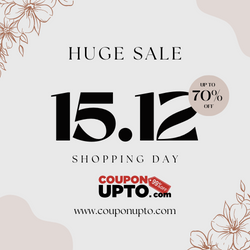 CouponUpto New Year Sales KickOff, offering extensive discounts on a variety of brands' stores that can drive more new customers to brands while also passing on more savings opportunities to consumers
EUREKA, Calif. (PRWEB) December 15, 2022
To help the kick-off for New Year Sales, top coupon provider CouponUpto today announced a huge promotion campaign during peak shopping holidays for coupon lovers and brand partners to deliver more value and savings to consumers as they shop across the Marketplace. For the first time, all brand partners, from emerging brands to well-known brands, launch new deals, promotions, and incentives at the same time through this New Year Sale kickoff.
As we know, the New Year following Christmas is celebrated as one of the biggest occasions throughout the United States and over the world. It is well-known for its huge discounts and is, obviously, the busiest shopping day preparing for the new year. With the launch of the New Year Sales Kickoff on CouponUpto, all of our brand partners now have the ability to set up coupons and promotions that can drive more new customers while also passing on more savings opportunities to consumers.
Hence, Stacy Keibler, CEO of CouponUpto, stated on New Year's Sales Kick-Off campaign, "At CouponUpto, we constantly strive to understand customers' shopping behaviors and make shopping online more convenient. Another effort to guarantee that everyone may access online items without concern for the price, no matter your budget the New Year discounts and gifts is for everyone."
The sale is set to begin on December 15th, 2022, and run until December 31st, 2022. The sale features several special offers, including a 70% discount on best-selling products in tech, home, beauty, activewear, home decor, finance, and weight loss from Amazon, Walmart, Target, and more. This promotion campaign is a new savings experience that will help consumers discover more promotions across the CouponUpto platform.
Thanks to the abundance of New Year's sales happening now, you will get many coupons and deals from 30% to 70% off from your favorite stores and brands. Simple instructions must be followed in order to receive the exclusive discount code. To claim the code, you must click "show code" to reveal the coupon code. You may subscribe CouponUpto Newsletter via email and CouponUpto Facebook to follow kick-off sales campaigns during the year. Users will now see more promotions, coupons, and deals tailored to them as they search and discover products from their favorite brands on CouponUpto.
Best Seller Products: Up to 70% Off
In addition to the reductions on Black Friday, Cyber Monday, and Christmas, CouponUpto has also announced the kick-off for New Year Sales offering extensive discounts on a variety of brands' stores, including Amazon, eBay, Walmart, and Bestbuy,... CouponUpto is the only place where you can buy many items at discounts of up to 70%. It shouldn't take you longer to get your favorite items at the best price ever.
About CouponUpto
CouponUpto is a coupon company that offers complete Savings solutions for online shopping, coupon hunting, and saving the most money. Numerous well-known websites, like Cloudways, PRweb, PR, and many others, have confidence in the organization. As one of the leading coupon companies, CouponUpto is developing sharply associated with online shopping trends around the world to make online shopping more affordable and accessible. Concurrently, CouponUpto is setting its sights as the preferred coupon provider for customers and vendors in the long run.