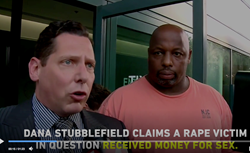 Truth issues are being unfairly kept under wraps. Secret hearings were held on the matter.
SACRAMENTO, Calif. (PRWEB) October 23, 2018
Documents pertaining to the rape allegation against Former NFL Rookie of the Year and Defensive Player of the Year Dana William Stubblefield have been formally sealed and will not be available to the press or public, in order to "avoid embarrassment to the complaining witness," court filings show.
Representatives with knowledge of the situation say public interest in the #metoo movement as well as backlash from a previous high profile Santa Clara sexual assault case known as the "Stanford Swimmer" have put mounting pressure on the criminal justice system to take a tougher stance on cases involving sexual assault. Leniency in sentencing the Stanford athlete, Brock Turner, in a 2016 sexual assault case triggered an uproar and ultimately cost the judge in that case his job.
Santa Clara Court's decision to keep the public and press in the dark about details uncovered in the case against the former San Francisco 49ers star come at a time when prosecutors and judges are taking an "unusually hard line" in sexual assault cases, according to Dana Stubblefield's attorney Kenneth Rosenfeld. As the national conversation about accusations like those against his client heat up, Rosenfeld says "truth issues" in his defense are being unfairly kept under wraps. He says that secret hearings were held on the matter and the court's ultimate decision to seal the documents are an "abuse of discretion." The order, in his opinion, is illegal, and he has filed a motion to reverse it. In addition, he has asked to have District Attorney Jeff Rosen recused from the case.
The defense further argues that sealing court documents from public scrutiny violates the First Amendment Rights of the public and press. In Stubblefield's case, evidence compiled from pretrial motions would be subject to this order, including background investigation material of the alleged victim. Stubblefield, a popular former San Francisco 49er, has pled not guilty to five felony charges which stem from an alleged incident in 2015 with a woman prosecutors call "mentally challenged."
The complete brief, with additional information, can be seen here
For more information about California criminal defense attorney, Kenneth Rosenfeld, The Rosenfeld Law Firm, or to schedule a client consultation, please contact the law firm by calling (916) 447-2070 or visit the company's website at: http://www.therosenfeldlawfirm.com.
REF: Sixth District Court of Appeals, Case #H046263
Press release writing by WebSiteText | SEO copywriting by Web Copywriters | Proofreading by The Proofreaders