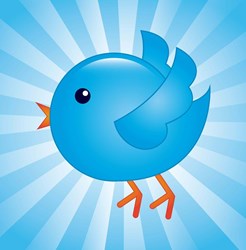 This case goes beyond potentially libelous speech online. There is the Kurt Cobain estate to consider as well.
Boston, MA (PRWEB) January 29, 2014
As expected, Courtney Love took to Twitter to announce the outcome of Gordon & Holmes v. Courtney Love, BC462438, in the Superior Court of the State of California for the County of Los Angeles. "We won this epic battle" was part of the message sent by the musician, actress, and colorful Hollywood personality to more than 250,000 followers. (1)
The grunge rocker also tweeted a selfie, a digital self-portrait, which showed her staring straight at the camera while a bumper sticker covered her mouth: "Think Beyond!" The case gained significant attention since it is believed to have been the first jury trial involving the intersection of Tweeter and libel. According to the Poynter Institute of journalism education and advocacy, it took jurors seven days and a couple of hours of deliberation to rule in favor of Love. (1, 2)
NBC News called the trial a "Twibel" case. " (3) This case goes beyond potentially libelous speech online," explains Rocco Beatrice, Managing Director of Estate Street Partners, LLC, parent company of the UltraTrust.com website which offers advanced and valuable estate planning tips. "There is the Kurt Cobain estate to consider as well."
According to the court documents, (7) it has been nearly twenty years since Cobain, lead singer of legendary grunge band Nirvana, sadly took his own life near Seattle. Cobain did not leave a will, and thus the case was handled under the intestacy rules and statutes of the Revised Code of Washington State. Years after his death, his surviving relatives established an irrevocable trust for the benefit of Frances Bean, Love and Cobain's only daughter. According to The Guardian, Love was an active manager of the Frances Bean Cobain Trust Fund despite losing guardianship of her daughter in 2003 and 2009. (6)
"Family quarrels do not preclude trust management duties," explains Mr. Beatrice. "Unless a clause in the trust agreement specifies that administrators must also be legal guardians, Love retained her authority with regard to reviewing trust disbursements and expenses."
In fact, Love's authority over the Frances Bean Cobain Trust Fund is at the very heart of this Twibel case. According to NBC News, the plaintiff is a San Diego law firm retained by Love in 2008 to handle a matter related to alleged fraudulent mismanagement of the Kurt Cobain estate. (3) Two years later, however, the attorney-client relationship had soured and turned into a plaintiff-defendant legal battle.
In 2010, Love made an unusual decision: She turned to Twitter for legal advice. According to MyNorthwest.com, Love recruited a small Twitter army of online investigators who allegedly helped her uncover malfeasance in the management of her daughter's trust fund. Love actually praised Twitter as an online social platform for gathering evidence. (5)
NBC News also reported on the single Twitter update that set off the Twibel complaint by the law firm Gordon & Holmes. During a Twitter exchange with bloggers, Love expressed dismay at her alleged abandonment by California attorney Rhonda J Holmes. Ms. Holmes claims that Love was a challenging and unresponsive client, but that she never betrayed her duties as counsel. (3)
According to the court documents, the plaintiffs introduced more evidence than the sole tweet to make their defamation case against Love. UltraTrust.com has examined court documents in this case that the grunge rocker moved to exclude from the trials, particularly a 2013 interview given by Love to the Howard Stern Show. In that interview, the defendant Love spoke about her past issues with using Twitter in an unhinged fashion, which ended up in expensive defamation cases that she chose to settle. (9)
According to the documents, Love discussed a lot more than potentially libelous remarks on her Howard Stern interview. She mentioned details about how the structure of the Nirvana and Cobain estate and how her daughter's trust fund ties in. (9) "Unlike wills, trust instruments are constructed in such a way that they are kept confidential," explains Mr. Beatrice. "The Howard Stern interview shows that Love was not careful with regard to keeping trust matter confidential, but she has also stated in interviews that she is learning from her mistakes."
The Twibel case has given UltraTrust.com an opportunity to review other interesting details surrounding the Cobain estate and her daughter's trust fund. In 2012, for example, according to the Guardian, Love ceded the controlling rights to the late Cobain's public image to Frances Bean. This took place two years after Love relinquished her duties as manager of her late husband's name and public image in exchange for a $2.75 million loan taken from the Frances Bean trust.
According to Mr. Beatrice, "Borrowing from trust is not an unusual matter, but it should not be handled without the advice of a trust management firm or an attorney. The repayment methods and terms must be discussed, and there may be fees to consider as well."
The LA Times reported that the jury did not find the plaintiff's evidence convincing enough insofar as determining whether Love knew that she was defaming her former attorney. (7) Based on this analysis, the jury cannot prove that Love sullied the reputation of the plaintiff. In fact, an attorney for the plaintiffs explained that media attention in this case has actually boosted her client's reputation as a lawyer.
"Trusts are excellent instruments for asset protection, fund management and wealth preservation, but they are not impervious to potential legal challenges. This is something that the Cobain estate continues to prove," concluded Mr. Beatrice.
To learn how to protect assets as well as save on estate taxes and probate costs visit UltraTrust.com, the irrevocable trust experts. Visit MyUltraTrust.com to set up a DIY, online irrevocable trust plan.
###
Estate Street Partners
Assets can be protected from frivolous lawsuits while eliminating your estate taxes and probate, and also ensuring superior Medicaid asset protection for both parents and children with their Premium UltraTrust® Irrevocable Trust. Call today at (888) 938-5872.
Sources:
1. t.co/9ponFuaPrE 1/27/14
2. poynter.org/latest-news/mediawire/237018/jury-finds-courtney-love-did-not-defame-in-first-american-twibel-trial/ 1/27/14
3. nbcnews.com/entertainment/courtney-love-wins-first-twitter-libel-trial-2D11988969 - 1/24/14
4. theguardian.com/music/2009/dec/15/courtney-love-legal-guardianship-daughter - 12/15/09
5. mynorthwest.com/646/334340/Courtney-Love-needs-help-with-a-Seattle-trial - 3/28/11
6. theguardian.com/music/2012/may/03/courtney-love-kurt-cobain - 5/3/12
7. latimes.com/local/la-me-love-libel-20140125,0,2561369.story#axzz2r3cwo78G - 1/24/14
8. spin.com/articles/courtney-love-defamation-trial-opening-remarks/ - 1/15/14
9. ultratrust.com/court-cases/Gordon-Holmes-v-Love-No-BC462438.pdf - 1/15/14