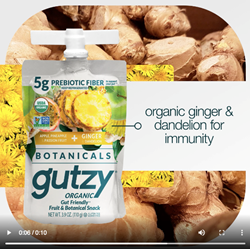 ...trend towards foods with functional benefits...
NEW YORK (PRWEB) September 29, 2020
Keep Moving, Inc., maker of the gutzy organic brand of gut-healthy snacks, is experiencing accelerated distribution growth as a result of COVID-era consumer trends. Gutzy® plant-based organic fruit, veg and botanical pouches are now available on refrigerated shelves at Meijer and Ingles stores, as well as online at Amazon.com.
Since March, there has been a surge in activity that reflects consumers proactively managing their own health. From the way they shop (~40% increase in online grocery shopping) to what they buy (eating healthier foods with greater functional benefits), the shifts have kept both retailers and food companies on their toes to meet consumers evolving demands. A big focus for retailers is on category management and product mix, assessing and optimizing to ensure the healthier, immune-boosting products that consumers are seeking are available.
David Istier, Founder and CEO of Gutzy Organic, said "this trend has helped gutzy expand our distribution by about 650 stores in just a few short months. It also pushed us to offer gutzy direct to consumers (DTC) now – we've just launched several flavor varieties on Amazon. Consumers are more aware of the role the gut plays in overall health, particularly immune system functioning and emotional and mental resilience. There's been a surge in online searches for things like 'foods that support gut health' and 'prebiotics and probiotics.' Each pouch of gutzy has 5-6g of prebiotics – both consumers and retail buyers love it."
Feedback from gutzy fans led the company to offer several DTC flavor options in 32-pouch packs. Input from gutzy consumers proved invaluable; Amazon sales have exceeded expectations. Istier said "new and old fans love it – they get a month's supply of gutzy delivered right to their door." Gutzy also offers a 16-pouch trial pack for those new to the brand.
Istier added "the launch of gutzy's Raspberry, Blueberry & Beet gut-healthy snack earlier this year has had notable success in gaining distribution. The new item beautifully blends the antioxidant-rich superfoods raspberries, blueberries and beets, critical B and C vitamins and prebiotics to create an amazingly delicious and gut-healthy snack."
Gutzy expects to roll out in more than 350 additional stores by the end of the year and will then be available in 4,000 stores nationwide.
About Gutzy
Keep Moving, Inc. was founded by French entrepreneur David Istier to provide on-the-go adults with the world's first organic gut-healthy fruit, veggie superfood snack under the Gutzy Organic® brand. Gutzy creates snacks for people who understand the importance of balanced eating and gut health. Gutzy is available in the produce and/or grab-and-go refrigerated snack sections of retailers across the US, including Publix, Hannaford, Safeway, Wegmans, Meijer, CVS, The Fresh Market, Ingles and select Walmart stores.