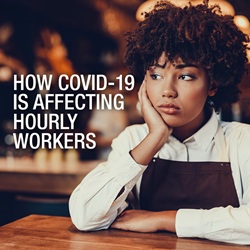 It may take some creativity to get people back to work, but it's worth the effort. - Bill Stoller, Express CEO
OKLAHOMA CITY (PRWEB) March 25, 2020
No work means no paycheck, and as businesses continue to temporarily shutter amidst the COVID-19 pandemic, many hourly workers are either suddenly without income or fear they may soon be.
Express Employment Professionals' more than 825 offices provide staffing and human resources solutions around the globe, allowing for a glimpse from the front lines of employment in a time of crisis and opportunities it creates.
Despite changes in employment across several industries, Express offices are still busy helping job seekers as many companies are finding increased opportunities for their services. And some clients taking proactive measures and closing temporarily are stepping up to pay employees during this time recognizing the financial hardships lack of work can bring.
"We have an electronic distribution company that has been a great client for our office services division for years, however, they used another service for their warehouse work," said Jan Riggins, general manager for two Express franchise locations in Fort Worth, Texas. "When that service began struggling to fill open job orders we stepped in, supplying employees immediately. We have also seen growth in other distribution companies that may provide the same opportunity for job seekers."
In Grand Rapids, Michigan, David Robb, director of marketing for the local Express office, added they are transitioning employees to other companies desperately needing more workers as they try to increase production on lifesaving products and materials. Express franchise owner Mike Brady in Jacksonville, Florida, said some of the local restoration and cleaning companies have added to their workforce and some grocery store chains are taking on people to stock and clean their facilities.
"Warehouse and distribution jobs will still need to be done, and this will not last forever," he said.
As the country settles into the temporary "new normal," Express owners across the country are listening to the concerns of their hourly workers.
Eighty percent of workers in Express franchise owner Mike Brady's office in Jacksonville, Florida, are paid hourly.
"We have fielded several calls where associates are concerned about pay if clients decide to close for a period of time or if they are laid off due to the slowing economy," he said.
In other areas of the U.S., business is somewhat slower than usual, but companies are holding steady and not making any major personnel changes yet.
"We have had some assignments end early due to lack of work or a planned drop in workload," Riggins said. "Companies really seem to be trying to hold on to existing staff but are hesitant to bring on new staff either for logistical reasons or for uncertainty in the future."
That hesitancy to bring on new workers or the possibility of mandatory quarantine is worrying hourly workers.
"I've heard from workers who are concerned about not getting paid if they can't work or if they are asked to quarantine for a while and can't find a job to help provide for their families," Robb said.
Express franchise owner Bryan Baker in Portland, Oregon, has been fielding calls from concerned employees, as well, wondering how they will make ends meet.
"People are afraid that they are not going to be able to pay rent and buy food for their families," he said. "The number of people calling in unavailable for work has been minimal in our office, which suggests that people are trying to work as many hours as they can, while they can."
With several areas already experiencing mandatory or suggested quarantines, Express experts speculate that if the quarantines become more widespread, the consequences could be devastating for hourly workers.
"The collective health and safety of our communities is of the utmost importance, but we can't ignore that these protections will have a big impact on hourly workers," Brady said. "With many families living paycheck to paycheck, even a two-week layoff will be very tough for them. Even if the government offers assistance, the need will be immediate."
In Fort Worth, Riggins adds that if a case of COVID-19 occurs at a facility, it could impact a large number of workers.
"We have several clients taking precautionary measures by putting part of the workforce in work-at-home positions, and the remaining are being spread out at the facility, or multiple facilities if they have the capability, to create distancing," she said.
In this time of uncertainty for workers, Express experts offer this advice:

"Try to stay committed to a daily routine. Take care of yourself as much as possible. Once this situation is under control, there will be a flood of opportunities for those who want to work." – Bryan Baker
"Stay positive and ready for work when things start to pick back up." – Daniel Morgan
"Be flexible and understand that we are all going through the same situation together." – Jan Riggins
"Follow the guidelines laid out by the CDC, but don't be overcome by fear." – David Robb
"Stay healthy, work hard and stay at work, safely, when possible. Control the things you can control." – Mike Brady
"We've seen people come together in tough times, and like so many times before, we will get through this one together," said Express CEO Bill Stoller. "It may take some creativity to get people back to work, but it's worth the effort."
***
If you would like to arrange for an interview with Bill Stoller to discuss this topic, please contact Sheena Karami, Director of Corporate Communications and PR, at (405) 717-5966.
About Bill Stoller
William H. "Bill" Stoller is chairman and chief executive officer of Express Employment Professionals. Headquartered in Oklahoma City, the international staffing company has more
than 825 franchises in the U.S., Canada and South Africa, and beginning in 2020 will expand to Australia and New Zealand. Since its inception, Express has put more than 8 million people to work worldwide.
About Express Employment Professionals
At Express Employment Professionals, we're in the business of people. From job seekers to client companies, Express helps people thrive and businesses grow. Headquartered in Oklahoma City, OK, our international network of franchises offer localized staffing solutions to the communities they serve, employing 552,000 people across North America in 2019. For more information, visit http://www.ExpressPros.com.