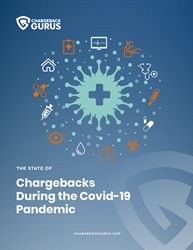 "Merchants have had to adapt very quickly to survive the challenges brought about by the pandemic," said Suresh Dakshina
DALLAS (PRWEB) February 04, 2021
Dealing with the Covid-19 pandemic has caused individuals and organizations across the world to make significant changes in the way they shop, conduct business, and live their lives, and the payments industry is no exception. With stores shutting down, entire industries disrupted, and a massive consumer shift toward ecommerce, the payments industry is under novel pressures and fraudsters have moved fast to take advantage of the confusion.
"Merchants have had to adapt very quickly to survive the challenges brought about by the pandemic," said Suresh Dakshina, President of Chargeback Gurus. "At the same time, there is this huge influx of customers who are new to the ecommerce experience. Their expectations don't always line up, and safeguards aren't always followed. This leads to disputes, and creates opportunities for fraudsters to exploit."
With this ebook, Chargeback Gurus hopes to provide merchants with a guide to navigating the uncharted waters of card payments and ecommerce in a time shaped by the pandemic and the prevention efforts intended to contain it. With information backed up by the latest research and data, merchants can understand how Covid-19 has altered the landscape and what they can do to protect themselves from fraud and chargebacks.
The State of Chargebacks During the Covid-19 Pandemic covers the top fraud, abuse, and chargeback trends currently affecting the payments industry; the impact of Covid-19 on true fraud and friendly fraud; the challenges faced by subscription-based merchants; and the best practices for preventing and fighting the chargebacks that result from pandemic-related circumstances.
The illustrated, 22-page ebook can be downloaded for free at Chargeback Gurus' website.
Chargeback Gurus is a leader in chargeback recovery, having worked on researching, addressing, and preventing credit card fraud for 16+ years. We have worked on millions of chargeback and fraud cases for businesses across the U.S. To help improve our merchant chargeback recovery rates increase by over 70% and their prevention rates increase by up to 50%. Contact us to learn how we can start you down a path of reducing chargebacks, preventing chargeback fraud, and giving you critical insights into your customers to maximize retention and ROI. Visit: ChargebackGurus.com.