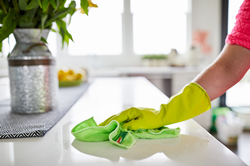 ARCOLA, Ill. (PRWEB) February 24, 2021
The Libman Company, a leading U.S. manufacturer of high-quality residential and commercial cleaning products, released the results of a COVID-19 Cleaning Habits Survey that it sponsored through a third party. The survey was designed to gain insights on how the COVID-19 pandemic has impacted consumers' cleaning products/tools, habits, and practices and what changes they will continue to incorporate in a post-COVID-19 world.
The online cleaning habits survey yielded the following highlights:
Home Cleaning

89% of people prefer to clean their homes themselves.
Of those using a cleaning service prior to the pandemic, 42% discontinued their service – mainly due to fears about having others inside their home.
Cleaning Habits

50% of people are cleaning more thoroughly during the pandemic.
Before COVID-19, 25% of people cleaned their homes daily. After COVID-19, 35% are cleaning daily, a 10% increase. 87% are cleaning at least 1x per week, up from 81% previously.
Since COVID-19, all cleaning product types have seen an increase in usage, with bleach (+21%), anti-bacterial aerosol sprays (+20%) and gloves (+20%) leading. Brooms had a 9% increase in usage and mops saw an 11% increase.
People are disinfecting all parts of the home more as a result of COVID-19. Places in the house where people are cleaning more are door knobs/handles (79%), countertops (68%), and bathroom sinks and kitchen sinks (59%).
Made in the USA

61% of people feel it is extremely/very important to purchase "Made in the USA" products.
60% say COVID-19 has changed their willingness to buy "Made in the USA" products.
Post COVID-19 Cleaning
The study revealed that people plan to wipe down home surfaces and clean more thoroughly, even after the COVID-19 pandemic ends.
67% said they will continue handwashing and using a hand sanitizer.
53% will continue wiping down home surfaces more frequently.
50% plan to clean their home more thoroughly and more frequently.
About The Libman Company
The Libman Company is a family-owned company that has been making quality cleaning tools since 1896. The company manufactures products from brooms and mops to more specialized tools for kitchen and bathroom cleaning and industrial uses. Libman proudly manufactures most of their products in the United States, including the company's well-known Wonder® Mop. For more information about the Libman Company, please visit http://www.libman.com.
Source: COVID-19 Cleaning Habits Survey Online Quantitative