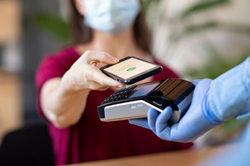 "While contactless payment is a very attractive option in the context of a pandemic," cautions Monica Eaton-Cardone, "both consumers and merchants need to be aware of the potential for illegitimate charges as fraudsters become more adept at stealing contactless access to accounts."
TAMPA, Fla. (PRWEB) July 13, 2020
The U.S. has historically lagged behind many countries in the world in terms of its adoption of contactless payment. As of 2018, for example, an estimated three percent of credit cards in force in the U.S. were contactless, as opposed to roughly 64% in the U.K and as high as 96% in South Korea.(1) Since the onset of the COVID-19 coronavirus crisis, however, contactless card use in the U.S. has risen sharply. Mastercard saw a 40% increase in contactless payments—including tap-to-pay and mobile pay—in the first quarter of this year alone.(2) "While contactless payment is a very attractive option in the context of a pandemic," cautions Monica Eaton-Cardone, co-founder and chief operating officer of Chargebacks911, "both consumers and merchants need to be aware of the potential for illegitimate charges as fraudsters become more adept at stealing contactless access to accounts."
This possibility is magnified by recent increases in the allowable amount of a single contactless transaction. In Canada, for example, Mastercard has increased the contactless payment limit from CA$100 to CA$250, which enables cardholders to make contactless payments of up to CA$250 without the need to provide additional cardholder verification such as a PIN code. Mastercard has also increased contactless payment limits across 20 countries in Europe, in some cases by almost double the existing amount.(3) Similar increases are expected in the U.S., where limits are currently set at $100.(4)
Consumer interest due to COVID-19 concerns, coupled with a probable increase in the amount of a single transaction, will almost certainly continue to raise the rate of contactless payment in the U.S. According to Visa, tap-to-pay transactions in everyday segments such as grocery and pharmaceutical are up more than 100% year over year, and overall contactless usage in the United States has grown 150% since March 2019.(5)
"As transaction limits go up, opportunistic third-party fraud—mail intercept, stolen or lost cards—becomes more attractive," says Eaton-Cardone, "as does first-party fraud, also known as friendly fraud. Consumers should be more aware than ever of their account usage and of any unauthorized bank activity, and merchants will need to continue to be vigilant about the monitoring and remediation of chargebacks."
About Chargebacks911:
Chargebacks911 empowers businesses to combat constantly evolving fraud tactics and mounting customer disputes that directly threaten profitability. Chargebacks911 has pioneered effective, industry-leading solutions designed to reduce chargeback fraud, alleviate processing costs, mitigate risk and recover revenues. The company's unparalleled expertise and proprietary technology have earned five consecutive CNP Customer Choice Awards for Best Chargeback Management Solution, three successive AI Lions' Den Awards for Best Airline Industry Solution, and Gold and Silver Stevie Awards from the American Business Awards (ABA). With innovative and highly scalable services ranging from Intelligence Source Detection™ (ISD) to Tactical Representment, Chargebacks911 uncovers the true source of chargebacks, battles unjustified disputes, rescues lost revenue, safeguards reputations, and defends against relentless, ever-changing cyberthreats. Chargebacks911 considers themselves to be a hero to the payments industry, nemesis of fraudsters and trusted protector of over 2.4 billion transactions per year, representing clients worldwide. For more information, visit http://www.chargebacks911.com
1. Schulze, Elizabeth. "Contactless Cards Are Just Catching on in the US - Years after the Rest of the World." CNBC, 12 Apr. 2019, cnbc.com/2019/04/12/contactless-cards-and-apple-pay-are-just-catching-on-in-the-us.html.
2. Rooney, Kate. "Contactless Payments Jump 40% as Shoppers Fear Germs on Cash and Credit Cards, Mastercard Says." CNBC, 29 Apr. 2020, cnbc.com/2020/04/29/mastercard-sees-40percent-jump-in-contactless-payments-due-to-coronavirus.html.
3. Moeser, Michael. "Coronavirus Prompts Mastercard to Raise Canadian Contactless Limit." PaymentsSource, PaymentsSource, 3 Apr. 2020, paymentssource.com/news/coronavirus-prompts-mastercard-to-raise-canadian-contactless-limit.
4. Ott, Gilbert. "Contactless Payment Limits Increase Due To Virus." God Save The Points, 15 May 2020, godsavethepoints.com/contactless-payment-limit-increasing-due-to-virus/.
5. Clark, Sarah. "Visa Reports on Impact of Covid-19 on Contactless Payment Adoption • NFCW." NFCW, 1 May 2020, nfcw.com/2020/05/01/366391/visa-reports-on-impact-of-covid-19-on-contactless-payment-adoption/.
# # #