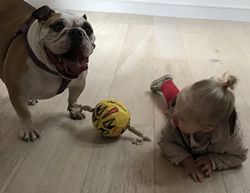 "During the pandemic, airlines have dramatically reduced passenger and cargo flights, significantly limiting our ability to move pets from all origins and to all destinations."--Walter M. Woolf, VMD Air Animal Founder and Veterinarian
TAMPA, Fla. (PRWEB) March 17, 2020
The COVID 19 pandemic spreading around the world is disrupting mobility, according to Air Animal Pet Movers.
"Air Animal and its global network of trusted pet moving providers are being besieged with numerous requests for U.S. and global pet relocation services. Airlines have dramatically reduced passenger and cargo flights, significantly limiting our ability to move pets from all origins and to all destinations," said Walter M. Woolf, VMD, founder and CEO of Air Animal Pet Movers. "We remain cautiously optimistic that airline passenger and cargo capacities will gradually improve in the second quarter."
Families relocating with their pets may speak with an Air Animal pet move client care representative in Tampa or Orlando about their options Monday through Friday, 8 a.m. to 5 p.m. EDT.
About Air Animal
Air Animal has helped more than 50,000 families move their 110,000 furry, feathered and scaly pets around the globe since 1977. They welcome referrals from major corporations, relocation management agencies, household goods movers, veterinarians, families, U.S. military and government transferees. Get the best in animal care and transportation. Air Animal is an appointed and endorsed IATA air cargo sales agency working with all airlines that move animals. They are an Indirect Air Carrier cleared for tendering live animals to airlines by the U.S. Transportation Security Administration. See airanimal.com to learn more about Pet Moving Made Easy®.