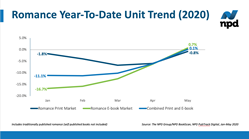 "With brick-and-mortar retail bookstores closed in the U.S. this past spring, e-book sales, which have always been stronger for romance than in other categories, really took off."
PORT WASHINGTON, N.Y. (PRWEB) August 19, 2020
The traditionally-published romance book market in the United States, which does not include self-published titles, had been on a steady decline since 2012. However, the COVID-19 lockdown helped to lift the category's e-book sales, according to The NPD Group (http://www.npd.com). Unit sales for romance e-books increased 17 percentage points from January through May 2020. In all, 16.2 million romance e-books and print books were sold during this time period.
"With brick-and-mortar retail bookstores closed in the U.S. this past spring, e-book sales, which have always been stronger for romance than in other categories, really took off," said Kristen McLean, books industry analyst for NPD. "Print romance books also rose slightly, as newly housebound readers looked for fun and immersive germ-free reads while waiting out the pandemic."
Total romance book sales, which had declined 11 percent in January 2020 over the previous year, began trending upward in March. The category exhibited strong growth through the acute COVID-19 shutdown period, with print and e-book sales closing slightly higher (0.1 percent) in May, due to an impressive rebound in e-book unit sales, which rose 17.4 points from January through May 2020. E-books made up 60 percent of romance category sales, and romance e-book unit sales increased 10 percent between January and May 2020.
Historical romance was the top growth subject in the romance category on a unit basis, in both print and e-book formats, but top-selling e-book titles differed from print book sales leaders. "Golden in Death" (Macmillan) led e-book sales in the overall romance category, followed by "Hideaway" (Macmillan), and "Chasing Cassandra" (Harper Collins). Print book sales were led by "Window on the Bay" (Random House), followed by "Every Breath" (Hachette Book Group), and "Country Strong" (Harlequin).
###
About NPD BookScan
NPD BookScan is the gold standard in point-of-sale tracking for the publishing market, covering approximately 85 percent of all the print books sold in the U.S. through direct reporting from all major retailers including Amazon, Barnes & Noble, Walmart, Target, independent bookstores, and many others. Each sale of the more than 13 million units tracked on a weekly basis includes geographic information making it possible to identify key markets, map regional sales trends, and index the likelihood of purchase in 200 major metro areas. NPD BookScan is also the exclusive provider of ALR data for Barnes & Noble, Target, Walmart, and Sam's Club to U.S. publishers.
NPD PubTrack Digital offers a comprehensive view of today's digital book market. Featuring information from more than 450 participants, including small, medium, and large U.S. publishers, this service provides unprecedented access to the top 80 percent of the traditionally published e-book market.
About The NPD Group, Inc.
NPD offers data, industry expertise, and prescriptive analytics to help our clients grow their businesses in a changing world. Over 2,000 companies worldwide rely on us to help them measure, predict, and improve performance across all channels, including brick-and-mortar and e-commerce. We have offices in 27 cities worldwide, with operations spanning the Americas, Europe, and APAC. Practice areas include apparel, appliances, automotive, beauty, books, B2B technology, consumer technology, e-commerce, fashion accessories, food consumption, foodservice, footwear, home, juvenile products, media entertainment, mobile, office supplies, retail, sports, toys, video games, and watches. For more information, visit npd.com. Follow us on Twitter: @npdgroup @npdbooks.