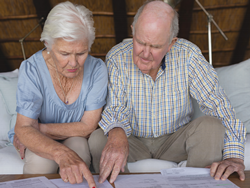 "The 10,000 U.S. seniors who turn 65 every day are facing a real challenge this year, given the complexity of the choices they have to make."
CLEARWATER, Fla. (PRWEB) July 28, 2020
A record 3,148 Medicare Advantage plans are being offered during the 2020 enrollment year. The number of plans available to a given individual, however, vary widely, from an average of 31 plans in metropolitan counties to an average of 16 in non-metropolitan counties. More than 60 plans will be available in six counties in Ohio and Pennsylvania, while no plans at all will be available in 77 rural counties around the country.(1) "The 10,000 U.S. seniors who turn 65 every day(2)," says Ensurem CEO Dave Rich, "are facing a real challenge this year, given the complexity of the choices they have to make. Meanwhile, the COVID-19 pandemic, which recently set a new U.S. record for new cases in a single day(3), is making traditional insurance purchase tools, like face-to-face agent visits and seminars, all but impossible."
Rich, whose company is a growing online multicarrier insurance brokerage, notes that Medicare Advantage coverage, unlike basic Medicare, is provided by private insurance companies. Its issuance thus involves an enrollment process, which varies from carrier to carrier and plan to plan. The plans can also vary widely in terms of authorized healthcare providers, out-of-pocket expenses, and coverage for items not included in basic Medicare.(4) Even before the pandemic, says Rich, the size and complexity of this market, coupled with the need for a timely decision—new Medicare beneficiaries have a seven-month window to enroll, with substantial penalties for delay(5)—had made traditional insurance sales procedures increasingly ineffective.
To meet what it sees as a major need in the market, Ensurem is developing artificial intelligence products that enable online product shopping and comparison, including the ability to determine whether a customer's preferred healthcare providers or prescription drugs are covered by a particular plan. In addition to expediting plan choice and enrollment for seniors, notes Rich, his firm's technology simplifies the process for providers of Medicare Supplement policies. Its AI tools, which are based on product-specific underwriting rules, automatically approve or deny policies not requiring manual review, resulting in lower operating costs, more insight into underwriting trends, quicker policy issuance, and a higher retention rate for agents. The next step will be the release of a cyber-agent to help seniors navigate the complexities of the entire Medicare system.
These capabilities, Rich emphasizes, are designed to aid and supplement human expertise, not replace it. Ensurem, in fact, is midway through a growth process that by the end of the year will have nearly doubled its stable of in-house agents. "Our technology," he says, "is backed by a fully licensed and contracted contact center staffed with expert agents who can assist those who need help outside of our online tools. In addition, we are constantly adding features and services to improve the online experience."
About Ensurem:
Ensurem, headquartered in Clearwater, FL, is a leading technology and product distribution company serving carriers and consumers within the massive U.S. senior market. The company provides end-to-end solutions for carriers, including product development, digital marketing, and consumer-centric front ends and back end. For more information, please visit Ensurem.com.
1. Gretchen Jacobson, Meredith Freed. "Medicare Advantage 2020 Spotlight: First Look - Data Note." KFF, 11 Dec. 2019, kff.org/report-section/medicare-advantage-2020-spotlight-first-look-data-note/#:
2. United States, arc.aarpinternational.org/countries/united-states.
3. Antonia Farzan, Katie Shepherd. "Live Updates: U.S. Reaches Deal with Pfizer, BioNTech to Distribute Potential Coronavirus Vaccine." The Washington Post, 22 July 2020, washingtonpost.com/nation/2020/07/22/covid-live-updates-us/.
4. "Part A & Part B Sign up Periods." Medicare, medicare.gov/sign-up-change-plans/how-do-i-get-parts-a-b/part-a-part-b-sign-up-periods#: