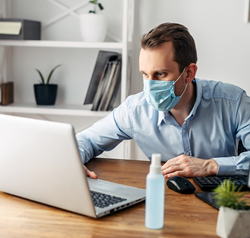 The current COVID-19 crisis will certainly accelerate the decline of on-premises IT systems, Some say it may deal a fatal blow.
HOBOKEN, N.J. (PRWEB) May 14, 2020
A NYC area IT consultant and cloud services provider reviews the decline of on-premises systems and asks if COVID-19 is the last nail in the coffin in a new article on the eMazzanti Technologies website. The informative article lists several existing nails, including the availability of cloud business tools, numerous business advantages and better security.
Digital transformation, rapid growth and competitive advantages are also presented as compelling reasons to switch to cloud-based systems. In addition, the author cites an increased focus on an organization's core business as a major reason to abandon on-premises systems.
"The current COVID-19 crisis will certainly accelerate the decline of on-premises IT systems," stated Jennifer Mazzanti, CEO, eMazzanti Technologies. "Some say it may deal a fatal blow."
Below are a few excerpts from the article, "Is COVID-19 the Last Nail in the Coffin for On-premises Systems?"
"As we have seen, COVID-19 shifted working patterns to primarily work from home (WFH). That pattern might continue for a long time. For example, many companies could find that their WFH employees don't want to return to the office when the restrictions have passed."
Existing Nails in the Coffin
"We have all the tools – With Windows 10 and other Microsoft-as-a-service software like Office 365 and Windows Server, plus hundreds of other SaaS apps from Adobe, QuickBooks, Salesforce, etc. small businesses have all the tools they need to live full-time in the cloud."
"Fast Growth - With the functionality of on-premises systems available in scalable cloud solutions, the cloud is the best choice for small companies seeking rapid growth. Rather than quickly outgrowing servers, the cloud stretches easily to match their rapid expansion."
"Ease of Use - A Salesforce study found that 60% of small business leaders have trouble implementing new technologies. Thus, ease of use is the primary factor when they evaluate new tools. Hence, many small businesses seek to simplify the adoption of new business technologies and services by moving to the cloud."
Getting Back to Work
Business leaders want to get through the COVID-19 crisis in good shape. Fortunately, they can while boosting productivity to a new level with fast, reliable, and flexible Cloud services from eMazzanti Technologies.
The Cloud makes it easy to access data from anywhere (without compromising security), enabling business owners to deal with the current crisis, optimize their mobile workforce, save money on IT infrastructure, and become more nimble than competitors.
eMazzanti Tools for Remote Work
eMazzanti Technologies provides the tools and expertise to help organizations maintain a WFH workforce. In addition to Microsoft 365 for remote work, eMazzanti experts can help them optimize business phone services and secure connectivity solutions. Business leaders can contact eMazzanti now to schedule a free, one-hour consultation to determine how Microsoft Teams can keep them competitive.
Have you read?
4 Tips to Reduce Cloud Spending During COVID-19 and Beyond
Stimulus Check Scams: Fraud targets consumers and small businesses
About eMazzanti Technologies
eMazzanti's team of trained, certified IT experts rapidly deliver increased revenue growth, data security and productivity for clients ranging from law firms to high-end global retailers, providing advanced retail and payment technology, cloud and mobile solutions, multi-site implementations, 24×7 outsourced network management, remote monitoring and support.
eMazzanti has made the Inc. 5000 list eight consecutive years, is a 4X Microsoft Partner of the Year, the #1 ranked NYC area MSP and NJ Business of the Year! Contact: 1-866-362-9926, info@emazzanti.net or http://www.emazzanti.net Twitter: @emazzanti Facebook: Facebook.com/emazzantitechnologies.