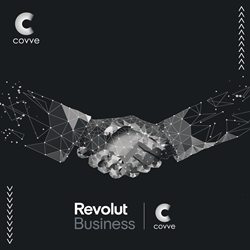 LOS ANGELES (PRWEB) November 04, 2020
Relationship management system, Covve announces its strategic partnership with Revolut, a UK-based financial management app. The partnership reveals Covve Scan as a new offering of Revolut Business. Covve Scan will join tools like Slack, Monday.com and Hotjar as part of Revolut Business perks.
Covve Scan
Covve Scan is an AI-powered business card scanner available for both Apple and Android users. The app is able to convert business cards in over 40 languages into digital format with maximum accuracy to seamlessly fill the user's contacts. Designed specifically for fast, highly intuitive usage, this tool is GDPR compliant and essential for any serious business professional or networker.
Using the scanning app, users simply take a photo of the business card and its details are automatically recognized by the technology and imported into the contact card. In the digital format, professionals can add notes, tags, locations, and other relevant information easily from their phone or device. Contacts can be organized, searched and shared from the powerful interface with ease using any messaging or sharing platform. Covve Scan can be used as a standalone app, or it integrates with selected CRM platforms like Salesforce to further improve data entry efficiency and offers the ability to export to a spreadsheet.
From the Makers of Covve
Founders Yiannis Gavrielides and Alex Protogerellis created Covve in 2013 as the CRM for everyone. The app bundles an advanced relationship management platform into a simple system for professionals to better manage their relationships to create business opportunities. Covve is currently being used by professionals in leading companies in over 120 countries.
Covve founders share, "We are very excited to partner with Revolut, one of Europe's fastest growing companies and proud to be joining Slack, Pipedrive, Hotjar and other leading productivity software in helping Revolut's 400,000 business customers to be best at what they do."
Covve's Commitment to Security
Continuing to move the needle for taking the world of business digital, Covve's simple and smart contact management software will not only help professionals go paperless, but prioritizes data security for their contacts and communications. Covve is designed with privacy and security at the forefront. The company is committed to keeping the data in the owner's own hands, never reselling or sharing data. Covve maintains its platforms in an on-going manner and ensures they are up to date with the latest security fixes and using the best practices.
Revolut Welcomes Covve to Its Business Customers
Revolut already boasts usage by 400,000 businesses around the world. Joining the ranks of successful Revolut Business partnerships, users now have the ability to apply membership perks earned through the app to intelligently digitize business cards with Covve Scan. The new offering provides three months free unlimited use for users to experience the convenience and effectiveness of the app as a Revolut Business customer. Organized under Revolut's partnerships that provide operational efficiency, Covve Scan is available to all members of Grow, Scale and Enterprise plans.
Covve anticipates this partnership will expose their offerings to a large number of serious professionals globally and establish a strong long-term relationship. Revolut Business customers continue to receive a growing suite of brand perks as the company builds its strategic partnerships.