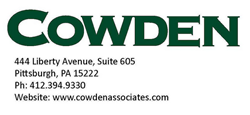 "Make a plan and act on it now, because this problem is not going to go away. Companies that engage professionals to analyze their business model, risk management, benefits offerings and financial options might—I emphasize might—be able to help mitigate some of the impact of this crisis."
PITTSBURGH (PRWEB) October 15, 2018
According to a recent study by the Schwartz Center for Economic Policy Analysis at the New School, roughly 40% of Americans—that's two out of every five—who are currently considered "middle-class" based on their income levels will fall into poverty or near poverty by the time they reach age 65. The study cites three primary reasons for the increased risk of poverty: depressed earnings, depressed asset values, and increased healthcare costs.1 "Over the past few decades," says Elliot Dinkin, president and CEO of Cowden Associates, "what was once the mainstay of middle-class retirement—a steady, consistent, dependable, guaranteed monthly pension payment is largely gone." Dinkin, a nationally known expert in actuarial, compensation and employee benefits issues, adds, "That, and several other factors, have combined to create a retirement crisis that's rapidly reaching hardship levels."
Not coincidentally, older Americans increasingly continue to work longer than their forebears. More than 20% of the workforce in the U.S. is 55 or older, an historic high, and that percentage is expected to increase—74% of Americans now say they plan to work past traditional retirement age.2 Moreover, 66% of millennials (people currently aged 22-37) report that they have nothing saved for retirement, due largely either to the absence of retirement offerings or to retirement plan eligibility requirements that exclude part-time workers and recent hires. (Over 94% of millennials who are eligible for a workplace retirement plan are saving—about the same participation rate as with previous generations.3)
This issue will only get worse for those who are relying upon multiemployer pension plans, also known as Taft-Hartley plans, which cover unionized workers and pensioners. As many as 114 of these plans, covering nearly 1.3 million workers, are seriously underfunded and headed toward failure within the next 20 years. A federal safety net—the Pension Benefit Guaranty Corporation (PBGC) — guarantees participants a minimum pension, by stepping into the shoes of failing plan sponsors. However, the PBGC projects that this very insurance program for multiemployer plans will run out of money by the end of 2025.4
The important fact is not to focus on how we got here, but to develop alternate solutions to offset some of the negatives. There may be some approaches that make fiscal sense.
"If you're in a position to do that," says Dinkin, "face the issue head-on. Make a plan and act on it now, because this problem is not going to go away. Companies that engage professionals to analyze their business model, risk management, benefits offerings and financial options might—I emphasize might—be able to help mitigate some of the impact of this crisis."
About Cowden Associates:
Cowden Associates, Inc., headquartered in Pittsburgh, PA, was created in 2001 with the merger of Halliwell and Associates and MMC&P Spectrum Benefits, founded by Jere Cowden in 1986. Currently led by President & CEO Elliot Dinkin, Cowden Associates specializes in helping corporate clients find the best solutions, both for the enterprise and its employees, with regard to compensation, healthcare benefits, retirement and pension issues, and Taft-Hartley fund consulting. Winning Workplaces and The Wall Street Journal have recognized Cowden Associates as a "Top Small Workplace," a lifetime designation awarded to executives for their ability to build and lead savvy organizations. For more information, visit http://www.cowdenassociates.com.
1. Menard, Martha Brown, "Almost half of middle-class Americans face downward mobility in retirement," BenefitsPRO, September 5, 2018.
2. Kurdek, Robyn, "Aging Workforce in America is Choosing to Work Beyond Normal Retirement Age," 401kTV, September 7, 2018.
3. Lobosco, Katie, "66% of Millennials have nothing saved for retirement," CNN, March 7, 2018.
4. Miller, Stephen, "114 Multiemployer Pension Plans Projected to Fail Within 20 Years," Society for Human Resource Management, August 29, 2017.