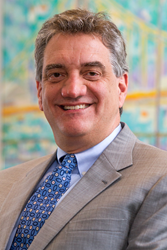 "CEOs and CFOs should keep in mind that at the close of 2017, there was yet another drop in the discount rate used to measure pension debt for accounting purposes, resulting in increasing liabilities."
PITTSBURGH (PRWEB) July 30, 2018
Recently enacted changes to the U.S. Internal Revenue Code by way of the Tax Cuts and Jobs Act of 2017 offer employers a strong incentive to consider completing a defined benefit (DB) pension plan de-risking strategy in the short term. Under the new rules, businesses have until mid-September, 2018, to deduct pension plan contributions at the 2017 corporate tax rate of 35% rather than at the new rate of 21%.1 "This is a significant opportunity," says Elliot Dinkin, president and CEO of Cowden Associates, a specialist in risk management and compensation plans. "CEOs and CFOs should keep in mind that at the close of 2017, there was yet another drop in the discount rate used to measure pension debt for accounting purposes, resulting in increasing liabilities. There should be a premium placed on managing that risk, whether or not the DB pension plan is a strategic part of the company's total compensation offerings."
This opportunity, notes Dinkin, has not gone unnoticed. Almost three-quarters (74%) of respondents to a recent Prudential Financial survey of finance executives whose companies have DB plans for current or former employees said their organizations were "very likely" to make a substantial DB plan contribution in time to take advantage of the larger deduction. These pension plan contributions are one component of an overall strategy called de-risking, wherein companies with DB pension plans seek ways to reduce the financial exposure these plans entail. This financial exposure exists in a variety of forms:

Underfunding as debt. Many defined-benefit plans (those committed to paying pensioners a specific, i.e., defined, amount per month) are underfunded. Under current accounting rules, this underfunding is carried on the books as a liability thereby adversely impacting the company's balance sheet.
PBGC premiums. The Pension Benefit Guaranty Corporation, an agency of the U.S. government that guarantees benefits (subject to certain maximums) to pensioners when their plans fail, charges employers a flat per-participant premium ($74 for single-employer plans and $28 for multi-employer plans) a variable rate premium applicable only to single employer pension plans of $38 per $1,000 of unfunded vested benefits.
Longevity risk. People are living longer, thus extending the payout period of lifetime pensions. In the Prudential survey, 70% of respondents agreed that "[t]he recent changes in actuarial mortality assumptions are creating 'longevity risk' for my organization."2
Not surprisingly, given these factors, a recent survey of 180 pension plan sponsors found that 75% have implemented or are planning de-risking maneuvers. Strategies can range from reducing investment risk exposure to offering lump-sum buyouts to former workers. In some cases, plan sponsors have transferred pension obligations to private insurance companies by purchasing annuities to pay out benefits.3
Per Dinkin, in order to protect the pensioner, the rules regarding annuity purchases mandate that any insurance company that assumes the pension risk must essentially step into the shoes of the pension plan and match 100% of all benefit amounts, rights, and related features,
About Cowden Associates:
Cowden Associates, Inc., headquartered in Pittsburgh, PA, was created in 2001 by the merger of Halliwell and Associates and MMC&P Spectrum Benefits, which was founded by Jere Cowden in 1986. Currently led by President & CEO Elliot Dinkin, Cowden Associates specializes in helping corporate clients find the best solutions, both for the enterprise and its employees, with regard to compensation, healthcare benefits, retirement and pension issues, and Taft-Hartley fund consulting. Winning Workplaces and The Wall Street Journal have recognized Cowden Associates as a "Top Small Workplace," a lifetime designation awarded to executives for their ability to build and lead savvy organizations. For more information, visit http://www.cowdenassociates.com.
1. "Analysis of the Tax Cuts and Jobs Act," Tax Policy Center and Brookings Institute, 2017.
2. Schmidt, Chris, "Tax Law Drives Pension De-Risking Opportunity," CFO, June 25, 2018.
3. Miller, Mark, "When your pension sponsor talks 'de-risking'—watch out," Reuters, November 19, 2013.