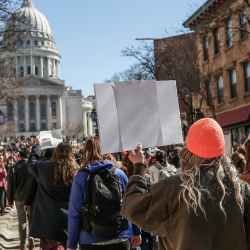 The climate of labor relations in the U.S. is changing, and both sides need to consider their own—and each other's—realities as they prepare to negotiate new contracts.
PITTSBURGH (PRWEB) February 25, 2019
Toward the end of January, Los Angeles public school teachers reached an agreement with city officials to end a weeklong strike that had affected more than half a million students. The deal includes caps on class size, as well as hiring a full-time nurse for every school and a librarian for every middle and high school in the district by fall 2020.[1] "This was by no means an isolated event," says Cowden Associates, Inc. President and CEO Elliot Dinkin, a nationally known expert in actuarial, compensation, and employee benefits issues. "The climate of labor relations in the U.S. is changing, and both sides need to consider their own—and each other's—realities as they prepare to negotiate new contracts."
The change, notes Dinkin, started becoming noticeable in early 2018. Beginning in West Virginia in February and followed shortly afterward by walkouts in Oklahoma, Arizona, and North Carolina, teachers were able to rally public support, with lawmakers partially reversing years of cutbacks to education. More recently, in February of this year, Denver educators were promised 7% to 11% increases in base pay after three days on strike.[2] Teacher unrest is not limited to public schools — Chicago is in the midst of its second charter school strike. The Chicago Teachers' Union, which represents educators from both charter school companies involved, said that teachers are fighting for pay parity with their peers employed in the city's traditional public schools, in addition to more resources for students.[3]
This flurry of activity comes after a long period of quiet for American labor. In 2017, for example, U.S. workers went on strike only seven times, the second fewest work stoppages since the U.S. Bureau of Labor Statistics (BLS) started keeping track in the 1940s. In 2018, however, the official number of major work stoppages recorded by BLS almost tripled, to 20. Off the picket line, workers have also won a wide range of concessions. Facing employee pressure, Google and McKinsey & Co. dropped contracts for government work employees found objectionable; thousands of dismissed Toys "R" Us workers were belatedly given severance payments; and Starbucks Corp. expanded parental and sick leave policies.[4]
These developments have led to some speculation about the possibility of a general strike, in which a significant percentage of workers from a number of different industries in a given city or region come together to take collective action. However, Dinkin points out, the logistical and funding obstacles to such an initiative are enormous. In addition, the Labor Management Relations Act of 1947, better known as the Taft-Hartley Act, forbids actions taken by unionized workers in support of workers at other companies, effectively rendering a general strike illegal.[5] There is, Dinkin notes, little if any possibility that the Taft-Hartley Act will be abolished or amended in any significant way — the basic legal framework for labor-management negotiations will continue to be what it has historically been.
"As a neutral party," Dinkin says, "we have labor unions as clients, as well as small, medium, and large businesses. We urge both parties to take a systematic approach to understanding their own, and one another's, realities. Employers' competitive pressures and cost constraints are real. So, however, is the need for compensation to keep pace with the cost of living, and benefits to keep pace with actual needs. In today's tight labor market and relatively stable and healthy economy, we find that with careful planning and analysis, both sides of the table in collective-bargaining negotiations can find a workable path forward."
About Cowden Associates, Inc.
Cowden Associates, Inc., headquartered in Pittsburgh, PA, was created in 2001 by the merger of Halliwell and Associates and MMC&P Spectrum Benefits, which was founded by Jere Cowden in 1986. Currently led by President & CEO Elliot Dinkin, Cowden specializes in helping corporate clients find the best solutions, both for the enterprise and for its employees, with regard to compensation, healthcare benefits, retirement and pension issues, and Taft-Hartley fund consulting. Winning Workplaces and The Wall Street Journal have recognized Cowden as a "Top Small Workplace," a lifetime designation awarded to executives for their ability to build and lead savvy organizations. For more information, visit http://www.cowdenassociates.com
1. Medina, Jennifer, and Goldstein, Dana, "Los Angeles Teachers' Strike to End as Deal Is Reached," New York Times, January 22, 2019.
2. Andone, Dakin; Yan, Holly; and Weisfeldt, Sara, "This is what Denver teachers got after 3 days on strike," CNN, February 14, 2019.
3. Jones, Sarah, "Red for Ed Continues: Where Teachers' Strikes Are Set to Spread Next," New York Magazine, February 7, 2019.
4. Paskin, Janet, "The Resurrection of American Labor," Bloomberg Businessweek, February 7, 2019.
5. Kelly, Kim, "Everything You Need to Know About General Strikes," Teen Vogue, January 24, 2019.