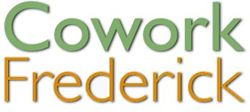 FREDERICK, Md. (PRWEB) April 07, 2020
As social distancing practices reshape the way the country works Cowork Frederick has launched a series of virtual events to support teleworkers and small businesses.
Events, which are free to the public, are designed to bring structure, connection, and stress relief to peoples' days during a time when many are struggling with upended routines. Participants can share work goals and work distraction-free during daily work sprints, enjoy water cooler conversations at virtual coffee breaks, and enjoy the benefits of brief guided meditations led by an instructor from the Frederick Meditation Center.
As the needs of the community shift Cowork Frederick will continue to develop virtual events that help teleworkers and small business owners foster healthy and effective work habits. To learn more about the virtual events being offered visit the Cowork Frederick Events Calendar.
Cowork Frederick is a collaborative working environment, a coworking space, for independents, freelancers, entrepreneurs, and telecommuters. Like any office, Cowork Frederick provides the essentials you need to work: desk, chair, power, internet, printers, fax, etc. But we're more than a place with office equipment. Cowork Frederick is people, side-by-side, connecting, sharing, learning, growing, working and having fun. If you've struck out on your own but still want the support and camaraderie of others, Cowork Frederick could be just the place for you.