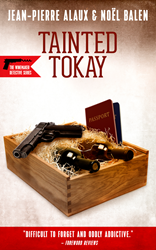 Extremely entertaining, educational, and amusing.
New York, New York (PRWEB) May 17, 2016
Mystery and thriller publisher Le French Book recently released a new Winemaker Detective whodunit. Tainted Tokay is a mystery novel set in Europe. In between experiencing sumptuous food and wine, the Winemaker Detective grapples with deceit and deception in Old World Europe.
France's top wine expert Benjamin Cooker sets off to enjoy the delights of Vienna, a romantic ride down the Danube, a gourmand's visit to Budapest, and a luxury train through the enchanting Hungarian countryside. All too soon, stolen wallets, disappearing passports, guides who are a bit too obliging, and murder mar the trip. Meanwhile, in Bordeaux, Cooker's assistant Virgile faces an annoying rival and a mildew crisis in the vineyards just as Cooker's lab technician is the victim of a mugging.
This tasty and wine-flavored story is rich in culinary and oenological stories, sense of place, and contemporary issues affecting Europe.
It is for readers who love cozy culinary mysteries, amateur detective stories, international mysteries with French flair, or anything wine or food related. A made-for-TV series, it offers armchair travel at its best with gentle mysteries and characters readers can invest in.
Praise from readers
"There is always a peril when reading this series—if the wine and locales don't get you, Benjamin's love affair with wonderful food will."
"Entertaining and very enlightening narrative."
"Descriptions worthy of a travelogue, winemaking and wines described in loving detail, crime."
About the series
With a healthy dose of Epicurean enjoyment, sensational sleuths, and a to-die-for setting, the Winemaker Detective series is mesmerizing. A wildly successful made-for TV series in France, The Winemaker Detective has received high praise:
"Masterful." —Star Tribune
"Difficult to forget and oddly addictive." —Foreword Reviews
"Alaux and Balen offer intrigue and plenty of good eating and drinking… this book and its successors will whet appetites of fans of both Iron Chef and Murder, She Wrote." —Booklist
Jean-Pierre Alaux and Noël Balen, wine lover and music lover respectively, came up with the idea for The Winemaker Detective series while sharing a meal, with a bottle of Chateau Gaudou 1996, a red wine from Cahors with smooth tannins and a balanced nose.
About Le French Book
Founded in 2011, Le French Book is an independent book publisher focused on bringing France's best mysteries and thrillers to new readers across the English-speaking world. For more information, please visit: http://www.lefrenchbook.com.
Tainted Tokay is translated by Sally Pane. Available wherever books are sold.
©2016 Le French Book, Inc. All rights reserved. Information is subject to change without notice.