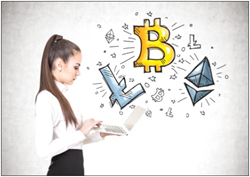 "The idea is right, the model is attractive and the market in Asia is warming up to this newer and better way."
SUN PRAIRIE, Wis. (PRWEB) November 05, 2019
Cornerstone Global Management, LLC is partnering with Malaysian based Neurogine to allow employees in Southeast Asian the ability to automatically convert any portion of their pay into cryptocurrencies through their revolutionary program, CP3 (Crypto Pay & Pension Plan).
Cornerstone announced last week in Las Vegas at World Crypto Conference that employees within the United States are the first to utilize the product by signing up for its Beta version of the program, with registration having started on Saturday, October 26th.
CP3 will empower US employees to designate any portion of their pay to be automatically converted to Bitcoin, Litecoin and/or Ethereum upon direct deposit to CP3's partner Uphold. The crypto(s) are then immediately sent upon conversion to any cryptocurrency wallet(s) identified ahead of time by the employee. The amount of pay and amount of each cryptocurrency can also change on any given pay period, with destinations varying from cold or warm storage wallets, to interest bearing and even IRA plans that support cryptocurrencies.
This will now be possible in Southeast Asia within the first half of 2020 with Neurogine as the initial direct deposit and conversion to crypto processor.
Neurogine, a Pan-Asian financial technology provider operating in Asia since 2014, has established itself within SE Asia through partnerships with entities such as AllInPay Financial Holdings Co Ltd, CasperLabs LLC, DSI Global Sdn Bhd, and PT Fortuna Media. It has boasts a flagship product called nPay, a white label, fully integrated mobile payment solution used by companies such as Ali Pay, We Chat Pay, and Union Pay.
Neurogine's Chief Executive Officer, Owen Chen, is excited for the potential this partnership brings to the entire Asia Pacific area:
"This is an amazing partnership. Neurogine is making remarkable inroads into key growth markets in Asia, and this partnership will capture latent demand for crypto payroll services in the next few months like Indonesia, Japan and China. Neurogine has already penetrated markets in Cambodia, Myanmar, Malaysia and Indonesia, by engaging banks, telecommunication operators, Governments and theme park operators about the potential of this program."
Chen goes on to say, "We see the benefits of this partnership possibly being applied to address current economic and social challenges in Asia Pacific as well. Our partnership with Cornerstone Global Management, LLC will further realize our ambitions of connecting Asia by providing a common salary based platform. We are also confident of expansion beyond any initial efforts, as many banks and organizations have proven receptive to the thought of crypto payroll services. The idea is right, the model is attractive and the market in Asia is warming up to this newer and better way."
Cornerstone's CEO and Co-Founder, David Schwartz, agrees on the potential within Asia as a whole and what this means for mass adoption on a global scale:
"Announcing the United States as the first region of implementation for CP3 was obviously a big step forward as we help to make crypto feel just as easy and comfortable within a person's life as the pay they would normally get from their employer." He continues by saying, "I would put this deal with Neurogine right up there with the US and Uphold, regarding significance. The Asian workforce is already predominantly 35 years or younger, which supports the idea that someone's option of payment should reflect their lifestyle choices. Southeast Asia is one of the leading regions in the world when it comes to adoption of cryptocurrencies, so this made perfect sense."
Given the current state of the global economy, allocating a portion of your salary into cryptocurrencies may just be one of the best hedging options one can choose to make. Visit https://cornerstoneglobalmgt.com today to learn more.
The world is full of options. How you're paid should be one of them.
About Neurogine:
Neurogine provides mobile banking, mobile payment and exchange solutions to banks, financial institutions, telecommunication operators, Governments, municipalities and large townships in Asia. Neurogine's flagship products include nPay, a white-label fully integrated mobile payment solution with geo-location conveniences and payment options for Ali Pay, WeChat Pay, Union Pay, Visa and Mastercard with money broking facilities, and nMPex, its mobile payment platform for financial institutions and banks enabling cross-border and multi-currency mobile payments for any of their account user in every ASEAN nation plus Hong Kong and China.
About Cornerstone Global Management, LLC:
Cornerstone Global Management, LLC is a service oriented company created to provide awareness, education and viable products based around respectable and trusted cryptocurrencies. Its revolutionary CP3 (Crypto Pay & Pension Plan) program provides employees the opportunity to automatically convert any portion of their pay into crypto and have it sent immediately to any wallet(s) that holds Bitcoin, Litecoin or Ethereum. To learn more and sign up for the CP3 beta program, visit https://cornerstoneglobalmgt.com.